You Can Stay in Barbie's Real-Life Malibu DreamHouse for Free
Ken is hosting two lucky guests in the revamped Airbnb listing to fit his own ken-ergy.
While Barbie is out promoting her upcoming film, of which she has the titular role, Ken is being a good boyfriend and making sure they maximize their exposure ahead of Barbie hitting theaters on July 21. The house has undergone a heap of redecorating by both Ken and Barbie, so it'll be substantially different than it was when the house was previously listed back in 2019. Think horse blankets, a disco floor, heaps of pink carpet, and wardrobes stocked with ultra-pink regalia. It's the ultimate Barbiecore summer vacation stay.
"We all have dreams, and Barbie is lucky enough to have a house full of them," said Ken, in a statement shared by Airbnb. "But now, it's my turn, and I can't wait to host guests inside these one-of-a-kind—dare I say, one-of-a-Ken?—digs."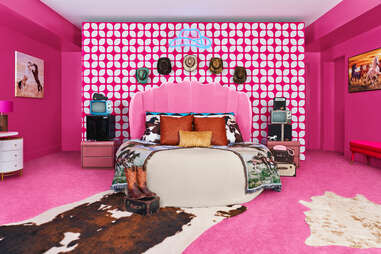 Two different people will be able to book one-night stays at the real-life Malibu DreamHouse, one for a stay on July 21 and one for a stay on July 22, 2023. Each person will be able to bring their own guest, and the stays will be totally free. According to Airbnb, this is because "Ken couldn't figure out how to put a price on Barbie's Malibu DreamHouse—after all, Ken's thing is beach, not math!"
Another reason to be thankful for the existence of himbos.
In addition to the stay itself, you'll also get to go through Ken's wardrobe to pick out the best beach outfit, learn some line dancing, and plenty of time to tan and relax by the property's infinity pool. Plus, you'll get souvenirs of your stay with a set of Barbie yellow-and-pink Impala rollerblades.
You'll be able to book the property starting July 17 at 10 am PT at airbnb.com/kendreamhouse. Make sure to set your alarm, as these two spots aren't likely to last long. Before booking, just keep in mind that you won't be getting any special transportation over to Malibu, so make sure you've got that portion of the journey planned yourself.