Stella Is Releasing New Midnight Lager, Its First-Ever Holiday Beer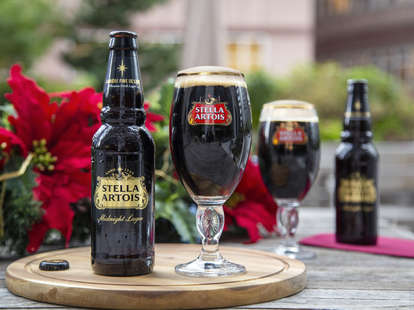 Courtesy of Stella Artois
Courtesy of Stella Artois
It's harder for adults to enjoy the Halloween season because we can't go door to door, unless we're dressed as a political canvasser zombie. And so we must resort to other forms of gluttony: Papa John's Jack-o'-Lantern pizzas, $5 burger & fry holiday deals at TGI Fridays, Pennywise Punch at It-themed bars, and stealing candy from the innocent children in their lives. But now you, adult, can drink a spooky style Stella, with Stella Artois' first-ever, limited-edition dark beer. It's fittingly called Midnight Lager.
The new holiday brew is a "black lager with notes of Belgian dark chocolate and freshly brewed espresso," according to a press release. There's not a hint of candy corn, thank God. The beer has 5.4% ABV, and the color is "inspired by the midnight sky itself."
Here's the bad news: Only folks in New York will be able to drink the dark brew on Halloween night -- Sleepy Hollow gets first dibs (the headless horseman is probably pissed he can't physically imbibe), but the beer will go nationwide on November 4.
Visitors and residents of Sleepy Hollow can stop by J. P. Doyle's (48 Beekman Ave., Sleepy Hollow, New York) and The Hudson Anchor (222 Beekman Ave., Sleepy Hollow, New York) for free pours of Midnight Lager from 6-9pm on Halloween night. These bars will also have the beer available for purchase on October 31:
Set Back Inn, 33 Main St, Tarrytown, NY
EATalia on Hudson, 385 S Riverside Ave, Croton-On-Hudson, NY
105 Twenty Bar & Grill, 120 Grand St, Croton-On-Hudson, NY
The Tavern at Croton Landing, 41 N Riverside Ave, Croton-On-Hudson, NY
The Grandstand, 197 Grand St, Croton-On-Hudson, NY
"The rich taste of Stella Artois Midnight Lager along with the deep, warm notes perfectly complements the cold crisp weather and will be the brew worth toasting with this holiday season," said Stella Artois VP Lara Krug. "We're excited to kick off our holiday spirit a little early this year on Halloween in Sleepy Hollow!"
And for those who can't wait to drink the midnight brew, try your skeletal hands at an Allspice Dram, our favorite Sleepy Hollow cocktail. Or just take little Jimmy's Almond Joys.
Sign up here for our daily Thrillist email and subscribe here for our YouTube channel to get your fix of the best in food/drink/fun.