Stephen Hawking Died on Einstein's Birthday, Proving Time Is Indeed Relative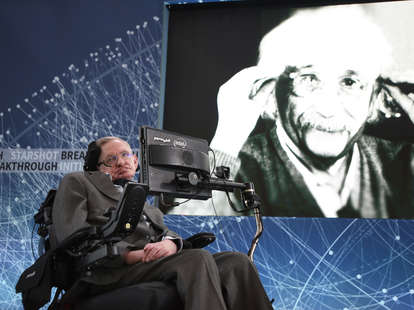 Bryan Bedder/Getty Images
Bryan Bedder/Getty Images
Stephen Hawking, a pioneering theoretical physicist, author of a Brief History of Time, and one of the most brilliant thinkers to ever live and breathe on planet Earth, died early on Wednesday morning at his home in Cambridge, England. He was 76.
Being that Hawking's intellect cast a towering presence throughout the world, despite his struggles with a debilitating muscular condition that confined him to a wheelchair for most of his life, it's rather fitting that the specific time of his death is rife with symbolism.
Hawking, the damn genius, passed away on Pi Day (3/14), which also happens to be Albert Einstein's birthday. Not only that, Hawking's birth on January 8, 1942 coincides with the 300th anniversary of the death of Galileo, the Italian astronomer whose contributions played a large part in shaping the scientific revolution but also the very important rock opera, "Bohemian Rhapsody."
You see, all the brainiacs are connected, proving that the universe does indeed make sense when it wants to. When the world learned of this threefold coincidence, Twitter had a galactic brain moment:
It's not hard to imagine all three men meeting somewhere in the cosmos, at some point in time, talking about things that no normal people understand.
Sign up here for our daily Thrillist email and subscribe here for our YouTube channel to get your fix of the best in food/drink/fun.
 
Sam Blum is a News Staff Writer for Thrillist. He's also a martial arts and music nerd who appreciates a fine sandwich and cute dogs. Find his clips in The Guardian, Rolling Stone, The A.V. Club and Esquire. He's on Twitter @Blumnessmonster.