You Can Own the Bike from 'Stranger Things' If You like Being Freaked out While Biking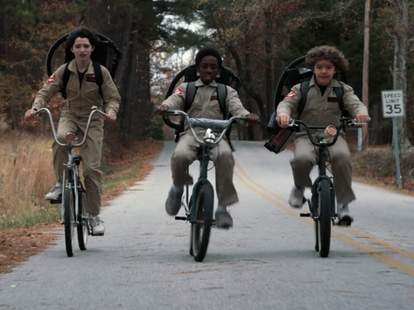 Do you like being scared while biking at night? Are you looking for a way to amplify that feeling? Schwinn has the perfect bike for you.
Starting Monday, June 4, Schwinn is offering 500 replicas of the bike owned by Mike Wheeler (Finn Wolfhard) on Netflix's Stranger Things. It's got all the features of Mike's bike with the addition of the Stranger Things logo on the side. It includes the banana seat, the light, the springer suspension fork, the bell on the handlebars. It's all there, less the knowledge of our impending doom at the hands of a sentient parallel dimension.
Schwinn
The bike costs $379.99 and can only be purchased by calling a hotline set up for this bike. It's an 80s bike, and you have to order it like its actually the 80s. You can get ahold of one by calling 1-800-SCHWINN, a number first revealed Monday morning in an ad printed in the Chicago Tribune. At least, you can call that number until the 500 bikes are gone. 
The bikes became available at 11am ET on Monday and hadn't sold out one hour before the end of the day, a representative tells Thrillist. So, there's still hope for you if you want to run out the door yelling, "If anyone asks where I am, tell them I've left the country."
Sign up here for our daily Thrillist email and subscribe here for our YouTube channel to get your fix of the best in food/drink/fun.

Dustin Nelson is a News Writer with Thrillist. He holds a Guinness World Record but has never met the fingernail lady. Follow him @dlukenelson.