A Museum Revived a Vintage Hoodie From 'Stranger Things' and It Can't Keep Up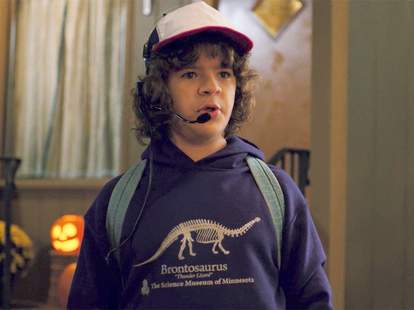 Early in Season 2 of Stranger Things, many fans noticed Dustin (Gaten Matarazzo) wearing a ridiculously awesome Brontosaurus sweatshirt. Eagle-eyed viewers may have noticed the purple hoodie was a souvenir from The Science Museum of Minnesota. 
The Science Museum, which says it hasn't stocked the shirts since the early '80s, noticed Dustin's fashion as well.
It wasn't a bit of clever product placement. The Museum says it was surprised to see a vintage shirt make an appearance on the show. Stranger Things costume designer and two-time Emmy nominee Kim Wilcox told the Star Tribune she found the shirt online and used that to make one in Matarazzo's size.
We have no clue how they got their hands on one of our vintage shirts!

— Science Museum of MN (@sciencemuseummn) October 28, 2017
On Tuesday, The Science Museum got the hoodies back in stock for the first time in decades. (Its absence had nothing to do with the century-spanning debate about the Brontosaurus.) Though it needed a little help from Netflix to get the original art for the shirt, the Star Tribune reports.
The shirts went on sale at 8am and crashed the site, according to MPR News. By 11am, the shirts were available again. And by 4pm the museum had sold 10,000 "Thunder Lizard" shirts, totaling more than $400,000.
A new shipment of hoodies is expected to hit the Museum Store on Wednesday. The in-museum store was sold out of most sizes by noon on Tuesday. More will be available online as well. So, go get yourself a sweatshirt and brush up on your Dig Dug skills.
UPDATE:
Brontosaurus fever didn't die down after Tuesday's rush. Thursday morning the Museum announced it had sold more than 18,000 items since the launch of the Stranger Things-inspired shirts were unleashed Tuesday. 
The Museum says that's more than $600,000 in proceeds raised to support its educational outreach programs. It celebrated with the perfect GIF for the occasion.
Sign up here for our daily Thrillist email, and get your fix of the best in food/drink/fun.
Dustin Nelson is a News Writer with Thrillist. You can trade in rocks and fossils at the Science Museum of Minnesota, and it's the best. But it's only for kids, so Dustin has to pretend his kids are trading in rocks and fossils. Follow him @dlukenelson.