Watch This Stray Cat Out-Walk Runway Models at an International Fashion Show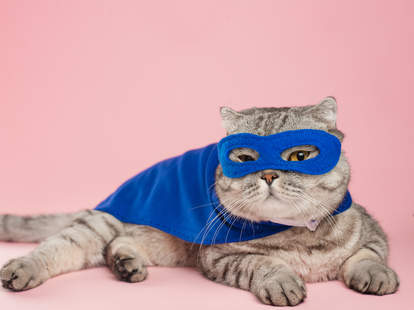 When it comes down to it, cats and haute couture models are not so different. They're elegant, poised, clawed, and uniquely skilled in the subtle art of not falling over. There's a reason they call a catwalk a catwalk. That said, it should come as no surprise that the breakout star at Istanbul's Vakko ESMOD International haute preview last week was not a long-legged Kate Moss type, but rather, a stray feline with a handsome grey coat (Cat Moss, if you will). 
The mangy cat -- an uninvited newcomer to the scene -- plopped itself in the center of the runway mid-way through the show, shamelessly cleaning itself while models donning winter coats and fitted pant suits paraded past, paying no mind to the feline in spite of its attempts to play. Apparently disturbed by the lack of attention, the bold cat in question then proceeded to strut down the full length of the runway before striking a pose, head held high, nonchalantly out-walking the well-trained models trailing behind.
"Everybody was in shock," designer Göksen Hakki Ali told press once the show had ended. 
It seemed that guests of the show and designers alike were impressed by the measured feline performance. What grace! What stature! This had been the singular show-stopping moment of the event at large. And better yet, the stray's signature gray-white fur fell seamlessly within the parameters of the collection's color palette. As it turned out, this very cat had been precisely the statement piece the line was missing.
When asked if the cat might have a shot at a full-time contract, Hakki Ali replied "Maybe. Why not?"
Sign up here for our daily Thrillist email and subscribe here for our YouTube channel to get your fix of the best in food/drink/fun.