College Student Crawls Through Air Ducts to Steal Exam, Becomes Internet Hero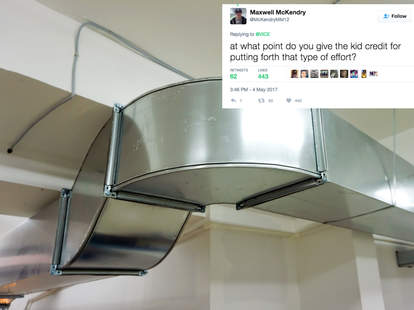 For a college student, stealing one of your exams in an elaborate heist might be the stuff of dreams. For two University of Kentucky students -- one of whom crawled through air ducts in order to retrieve a test in his professor's office -- it was a plot that nearly went unfoiled.
Late on the eve of a statistics exam, Henry Lynch III crept into the air ducts of the university's science building, shimmying all the way to his professor's office on the third floor. At around 1:30 in the morning, Lynch channelled his inner Tom Cruise, lowering himself down into the room and unlocking the door for his accomplice, sophomore Troy Kiphuth. Unfortunately for the enterprising thieves, professor John Cain was working late that night, and had just returned to his office after getting a midnight-snack. As soon as Cain, understandably irked, yelled that he was calling the police, the two students ran out of the office and down the hall. When cops arrived on the scene, Lynch returned to the building to confess -- the kind of anticlimactic coda you'd never see in a Mission Impossible movie.
Now facing a charge of third degree burglary, both students are expected to appear in court. But that doesn't mean the internet isn't lauding their illegal heroics:
@nytimes Somebody give this kid a job on Wall Street he's a natural...

— maria2island (@VitaminDeeJay) May 5, 2017
@VICE Who said the Millennial Generation was lazy? Purr genius.

— TSzar (@mrmulligan2269) May 4, 2017
@VICE at what point do you give the kid credit for putting forth that type of effort?

— Maxwell McKendry (@McKendryMM12) May 4, 2017
For his part, Lynch is kind of an exam bandit. He told police that he was in professor Cain's office earlier that evening at around 6:30, but couldn't find a copy of the test. Lynch had also successfully purloined a test last semester, he told police, but didn't share it with anyone else, as if that absolves him of breaking and entering.
Sign up here for our daily Thrillist email, and get your fix of the best in food/drink/fun.
Sam Blum is a News Staff Writer for Thrillist. He's also a martial arts and music nerd who appreciates a fine sandwich and cute dogs. Find his clips in The Guardian, Rolling Stone, The A.V. Club and Vice. He's on Twitter @Blumnessmonster.