This Guy Used CNN's Presidential Debate Coverage to Score over $300 on Venmo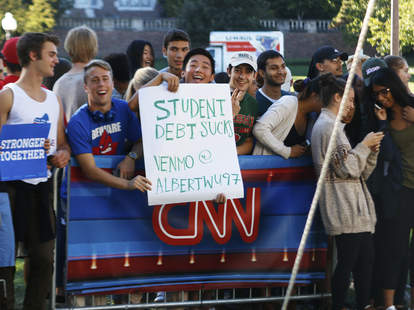 Photo by Allison Hamburg/Courtesy of Albert Wu
Amid the ongoing fallout from Donald Trump's "hot mic" scandal and the intense anticipation ahead of Sunday night's increasingly consequential presidential debate, CNN's exhaustive live coverage is fixed on the big showdown's venue, Washington University in St. Louis. And with the cable news giant's cameras pointed at the campus for hours at a time, one student there has already cashed in on all the attention -- just by holding a sign with his Venmo usersname.
While the background of CNN's live coverage from St. Louis has been crowded with dozens of Hillary Clinton and Donald Trump signs over the last few days, Washington University freshman Albert Wu camped out in front of the cameras with a sign bearing a markedly non-political message on Saturday night: "STUDENT DEBT SUCKS - VENMO @ALBERTWU97." Pretty brilliant, right? Well, within minutes of appearing on national TV, Wu's Venmo account lit up with dozens of contributions from viewers across the country. By the end of the night, the sign netted Wu more than $330, which is plenty of cash to cover his next few pizza deliveries.
"At first it was just a bunch of couple cent donations and the occasional one dollar here and there," Wu said via email. "I didn't really think I'd make that much. Then after a while the donations started getting higher and higher. The highest donations I got were three separate $15 donations."
Many of the contributions included funny messages like "I feel you bro" and "Good luck with those student loans" and "From my student debt to yours," among others. Some of Wu's friends ended up pitching in, too, while others ended up requesting a slice of the cash, he said.
Tony Merevick/Thrillist
The 18-year-old Boston native said he was inspired to create the sign after seeing stories about the guy who held up a similar sign requesting beer money during ESPN's College GameDay show a few weeks ago. He wouldn't have scored any of the cash, though, if he hadn't won the poster he used to make the sign while checking out the CNN broadcast area after doing some homework.
"I think the best part is that I had won that WashU poster that I drew on the back of in a carnival like ring toss game at one of the tents, so I totally could've not had that sign at all," he said. "Crazy how things happen with the smallest changes."
Wu hasn't determined exactly what he'll spend the money on yet, but said it will likely go towards essential college expenses like food -- you know, since it won't really put much of dent in his tuition costs. And despite his success out there on Saturday night, he intends to sit out CNN's debate coverage on Sunday night. Unsurprisingly, several other students were seen waving signs with their own Venmo usernames there throughout the day.
In case you're wondering, Wu said he does plan on voting in the presidential election this November 8th after recently registering in Missouri. Although he didn't reveal which candidate he plans to vote for, the experience over the weekend may have helped him on a separate subject that he's been undecided on so far:
"I'm in the Olin Business School and pretty much undecided on a major," he said. "However, after this little money-making adventure I think I'm meant to do business."
Sign up here for our daily Thrillist email, and get your fix of the best in food/drink/fun.
Tony Merevick is Cities News Editor at Thrillist and would have loved an extra $300 for pizza in college. Send news tips to news@thrillist.com and follow him on Twitter @tonymerevick.