Getting Enough Sleep Is Even More Important Than You Realized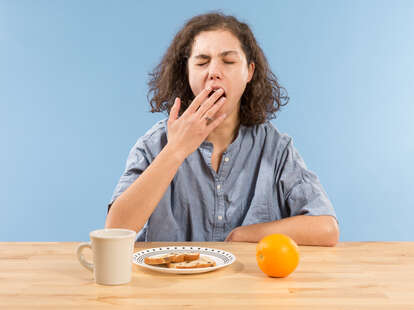 Cole Saladino/Thrillist
Cole Saladino/Thrillist
With a U.S. president who claims to sleep just a few hours each night, talk of sleep and sleep deprivation has been in the news more than usual. That might mean it's the perfect time for a study on the long-term consequences of sleep deprivation.
Lucky for you, a study has been published this week in the peer-reviewed journal Sleep looking at how sleep deprivation can cause you to be increasingly vulnerable to illness. While there's an 'I guessed that' element to the study, it showed for the first time in a scientific setting that chronic short-term sleep can shut down "programs involved in immune response of circulating white blood cells."
That's particularly important in light of the Centers for Disease Control estimate that the average person has lost and hour-and-a-half to two hours of sleep from their day over the last century. They also note that about a third of people sleeping less than six hours a night.
"Modern society, with its control of light, omnipresent technology and countless competing interests for time, along with the zeitgeist de-emphasizing sleep's importance, has resulted in the widespread deprioritization of sleep," the authors wrote.
This study took 11 pairs of identical twins with differing sleep patterns and studying the impact those patterns had on their immune system. Researchers write that the twin who slept less tended to have a depressed immune system, leaving them vulnerable to getting sick.

"What we show is that the immune system functions best when it gets enough sleep. Seven or more hours of sleep is recommended for optimal health," said lead author Dr. Nathaniel Watson, who is co-director of the UW Medicine Sleep Center at Harborview Medical Center.
So, when you're sick you need to get some good sleep, but you should probably be doing that all the time if you're looking to stay healthy.
h/t Independent
Sign up here for our daily Thrillist email, and get your fix of the best in food/drink/fun.
Dustin Nelson is a News Writer with Thrillist. He holds a Guinness World Record but has never met the fingernail lady. He's written for Sports Illustrated, Rolling Stone, Men's Journal, The Rumpus, and other digital wonderlands. Follow him @dlukenelson.