Stephen Wilkes/National Geographic
Check Out These Incredible Day-to-Night Nat Geo Photos of Our National Parks
In most cases, when "nature calls," you need to visit the restroom. It's a tired euphemism. But in this case, these spectacular photos of America's National Parks really are calling you. Just look.
Taken by photographer Stephen Wilkes, the series of striking images appear on this month's National Geographic cover, which "kicks off the magazine's year-long exploration of the power of parks."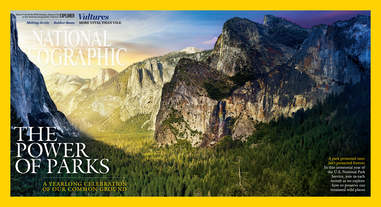 National Geographic
To create the effect, Wilkes had to set up his camera at a fixed point, and shoot thousands of images. He then chose the "50 best moments" and digitally layered the photos to create these incredible, time lapse pictures.
According to National Geographic, it was Wilke's childhood dream to "compress the best parts of a day and night into a single photograph." That's a very specific dream, but good for Wilkes. He got it. 
Take a look at his dream realized below complete with captions from National Geographic:
Stephen Wilkes/National Geographic
In March 1868 a 29-year-old John Muir stopped a passerby in San Francisco to ask for directions out of town. "Where do you wish to go?" the startled man inquired. "Anywhere that is wild," said Muir. His journey took him to the Yosemite Valley in California's Sierra Nevada, which became the spiritual home of Muir's conservation movement and, under his guidance, the country's third national park. "John the Baptist," he wrote, "was not more eager to get all his fellow sinners into the Jordan than I to baptize all of mine in the beauty of God's mountains." Today around four million people a year follow their own thirst for the wild to Yosemite.
Stephen Wilkes/National Geographic
"Today I am in the Yellowstone Park, and I wish I were dead." So Rudyard Kipling began his 1889 account of a tour in America's oldest national park. His disdain was aroused most by the "howling crowd" of tourists with whom he shared the visit. Attractions such as Old Faithful still draw more than three million (mostly well behaved) visitors yearly to Yellowstone; the vast majority of them never go beyond a hundred yards from a paved road. If Kipling himself had ventured deeper into the 3,472-square-mile park to witness the splendor of its river valleys and mountain meadows, his rant might well have given way to rapture.
Stephen Wilkes/National Geographic
On an April day cherry blossoms festoon West Potomac Park, part of the National Mall and Memorial Parks in Washington, D.C. While the grand parks of the West may elicit more gasps of awe, urban parks draw far more visitors. The National Mall hosts 24 million a year, almost twice the number of Yellowstone, Yosemite, and the Grand Canyon combined.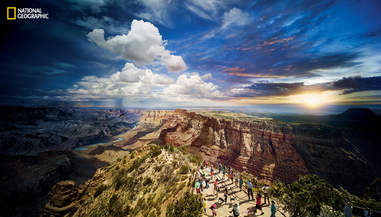 Stephen Wilkes/National Geographic
The Grand Canyon is the touchstone American park; whatever happens here could have repercussions throughout the park system. It has withstood threats from ranching, mining, and logging interests and a federal dam project. Today's challenges include a proposed town development on the South Rim and a tramway that would bring 10,000 visitors a day to the canyon floor.
Sign up here for our daily Thrillist email, and get your fix of the best in food/drink/fun.
Kara King is a News Writer at Thrillist and nature is calling her. Send news tips to news@thrillist.com and follow her at @karatillie.