Subway's New Meatball Sub Features the First-Ever Beyond Meat Meatballs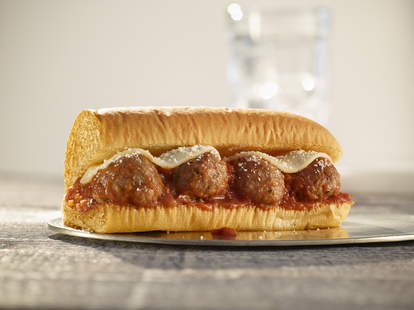 Not long ago, the meat-averse among us had woefully few vegan- and vegetarian-friendly meat alternatives that even vaguely resembled the flavor and texture they're aiming for (sorry, Gardenburger). But plant-based "meat" companies like Beyond Meat and Impossible Foods have recently taken fake meat to new heights with faux burgers and more that taste, look, and feel so unbelievably like the real deal that the likes of Burger King, Carl's Jr., and Dunkin' are adding them to their menus. Now, Subway is joining the club with a new meatless meatball sub made with the first ever Beyond Meat meatballs.
Hoping to cater to the plant-based meat mania that's taken hold in the last year, Subway has teamed up with Beyond Meat on a brand new version of its iconic meatball sub made using Beyond Meat's first-ever plant-based meatballs. The sub, which will be available for a limited time in 685 select locations across the United States and Canada starting in September, will look and taste almost identical to the chain's popular meatball sub. The big difference, of course, will be in the Beyond Meat meatballs, which were created just for Subway. The rest of it -- the toasted bread, marinara sauce, and cheeses -- will remain the same.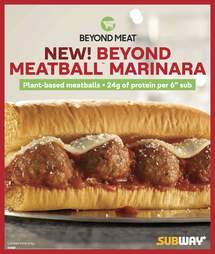 Courtesy Subway
"We're excited to partner with Subway and are grateful that the menu team through to senior management has entrusted us as their innovation partner to deliver delicious plant-based proteins to their guests," said Beyond Meat founder and CEO Ethan Brown, in a statement. "We look forward to a long-term partnership with Subway as we together serve and delight existing and new fans of this iconic chain."
While you may not be chowing down on actual red meat, there's no reason to worry you'll be skimping on protein when opting for one of the Beyond Meat subs. Each six-inch sandwich will contain 24g of protein, which is exactly as much as you'd get if you ordered the original meatball version. Of course, ordering the sandwich with or without cheese is up to you -- just like any other customizations.
Subway hasn't yet disclosed which 685 locations will be serving the subs or when exactly they'll be available, so you may just want to peek into your local sandwich artist hangout at some point next month to scope things out.
Sign up here for our daily Thrillist email and subscribe here for our YouTube channel to get your fix of the best in food/drink/fun.