You Can Get IRL Green Eggs & Ham at Subway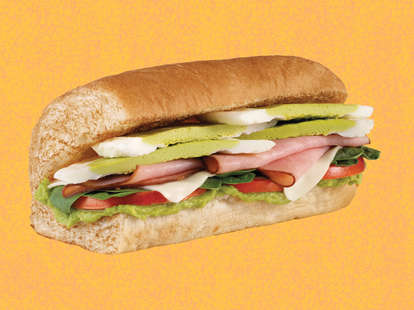 Edited - Courtesy of Subway
Edited - Courtesy of Subway
Can we really blame the unnamed character in Dr. Seuss' Green Eggs and Ham for being kind of grossed out by the thought of eating eggs that are... green? Personally, I find the idea of eating green eggs somewhat unnerving, especially if a certain Sam-I-Am kept pestering me about it. But apparently Subway doesn't.
In a partnership with Netflix, Subway is launching a Green Eggs and Ham Sub in honor of the new Netflix series based off the best-selling children's book. In the new animated series, the narrator is actually named Guy, which I guess is the most innocuous name you can choose for a character that was previously only referred to as the narrator. The plot seems to relatively be the same: Sam-I-Am wants Guy to eat his cursed meat and egg spread, and he -- like a logical person -- is uninterested.
Don't be dismayed though! The green eggs are actually dyed with spinach, so though it seems daunting to try, no harm will come of you. If you're more of a Sam-I-Am type than a Guy type, you can try Subway's Green Eggs and Ham Sub at participating Subway locations in New York City and Los Angeles. The sandwich is composed of fresh spinach, guacamole, sliced tomatoes, American cheese, and of course, green eggs and ham piled on top of an Italian loaf.
Additionally, a Hambulance with will be making stops across America delivering surprise subs to unsuspecting guests, so keep your eyes peeled for a truck with a large green ham on top of it.
The sub is a limited time offer, so if you do want to try green eggs in a house with a mouse or in a box with a fox, you better skip to it.
Sign up here for our daily Thrillist email and subscribe here for our YouTube channel to get your fix of the best in food/drink/fun.
Kat Thompson is a staff writer at Thrillist. Follow her on Twitter @katthompsonn.