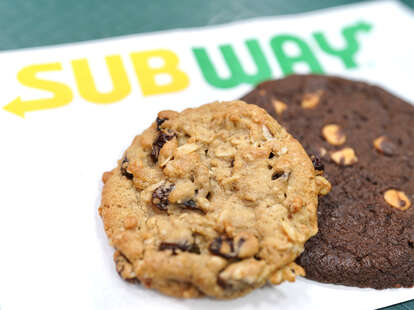 Prachana Thong-on / Shutterstock
The lure of fresh foot-long sandwiches may have kicked off your Subway habit, but be honest—it's the cookies that kept you coming back for more. And because the brand isn't naive to this fact, it's opening its first-ever outpost that won't sell sandwiches at all. Rather, the pop-up, dubbed Cookieway, will sell nothing but cookies.
Ahead of National Cookie Day, Subway will open the doors to its sweets-focused dessert shop for a four-day run (from December 2 to December 5) in New York City's Lower East Side neighborhood.
Here's the full cookie lineup:
Chocolate Chip
Oatmeal Raisin
Raspberry Cheesecake
White Chip Macadamia Nut
Caramel Apple
S'mores
Caramel Brownie
M&M
Double Chocolate
"Subway is launching Cookieway as a special thank you to our fans, who overwhelm us with love for our cookies and have helped make Subway cookies the co-star of our menu, alongside our subs," chief marketing officer Carrie Walsh said in a press release. "National Cookie Day is the perfect holiday to celebrate our iconic cookies and creates an opportunity to support the great work of Make-A-Wish by encouraging Cookieway visitors to make a donation when they receive their delicious cookie sample pack."
For folks that can't make it into the Cookieway store, Subway is offering 10% and a $0 delivery fee on all orders made through the app.
Megan Schaltegger is a staff writer at Thrillist.