Subway Is Unleashing Two New, Fresher Bread Styles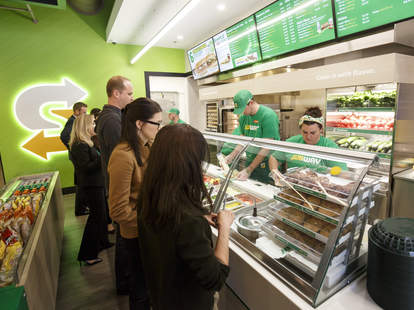 Bread might be humanity's greatest invention. Old bread, new bread, stale bread, wet hot dog buns at eating competitions -- it's all great. So we're happy to announce that there will now be even more bread in the world.
Subway is testing out new, fresher bread styles in Orange County, California. Most Subway bread is baked at least twice daily, but for these new types are baked every four hours. Currently, they're only available in the OC, but hopefully they'll find their way into the stomachs of the rest of the country soon.
As to what's actually new, it's not just the freshness. According to a report by Brand Eating, the new options are a hoagie and a Dutch crunch roll (plus a new oven that can proof, bake, and steam in the same compartment). The Dutch crunch style is apparently super-popular in the Bay Area and has a crunchy crust because it's coated with rice paste before it's baked.
The point is: Huzzah, more bread.
Sign up here for our daily Thrillist email and subscribe here for our YouTube channel to get your fix of the best in food/drink/fun.