NYC Finally Has a 'Succession' Walking Tour for All You Slime Puppies
Follow the Roy drama, IRL.
It has been over 115 days since the series finale of Succession aired on HBO. Ever since then, Sunday nights haven't been the same for the people who clung to every twist and turn of drama in the Roy family and their empire. But, just because the show isn't producing new episodes, that doesn't mean you can't make some new Royco memories. The tour company ExperienceFirst is launching a new walking tour dedicated to the glamor and drama of a day as a Waystar Royco executive.
The new Unofficial Succession Tour in New York City will follow the steps of the Roy family. It is the first Succession-themed tour in NYC, and will feature filming locations and real-life stories that helped make the show feel so realistic. The two-hour tour around downtown NYC will include homes, offices and meeting places that were the backdrop throughout the show.
"I started ExperienceFirst with the mission to educate and entertain visitors, bringing history and stories to life," Andrew Luan, the company's founder and CEO, said in a statement provided to Thrillist. "I know first-hand the excitement of New York's corporate world, having worked on Wall Street as a bond trader. We are thrilled at the opportunity to bring guests in with behind-the-scenes anecdotes that provide richness to the Succession storylines that fans love."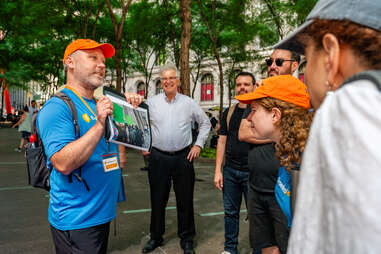 The tour will end with guests having the chance to take a photo at the bench Kendall sits at during the series finale. The tour will cost $39 per person, $35 for kids aged three through 12, and free for kids under two. It will run daily between Friday and Sunday, with two time options: 10 am and 3 pm. It will be accessible for strollers and wheelchairs. Bookings for the tours can be made directly on Exp1.com.
To coincide with its launching of the new tour, Experience First is hosting a giveaway that will give one lucky winner a tour of the city with Manhattan Helicopters worth $600. A second-place prize will be a $500 gift card to Michelin-starred Italian restaurant Al Coro. And a third prize will be a private version of the Succession walking tour for two. You can enter to win here.