For all the pleasant beach days and sunny afternoons it brings, summer can also usher in some truly bonkers weather. But it's tough to imagine it getting any crazier than it did in Guadalajara, Mexico this weekend, when after a freak hailstorm storm buried much of the city in up to three feet of ice.
After a steamy few weeks of hot weather in Guadalajara -- the capital city of Mexico's Jalisco state -- residents were likely ready for a storm or two to bring some relief from the heat. However, the strange weather event that swept through on Sunday morning was well beyond what anyone was expecting. A truly extraordinary hailstorm dropped so much ice that several suburban areas were left buried in up to three feet of it, blocking roads in many areas and causing extensive damage.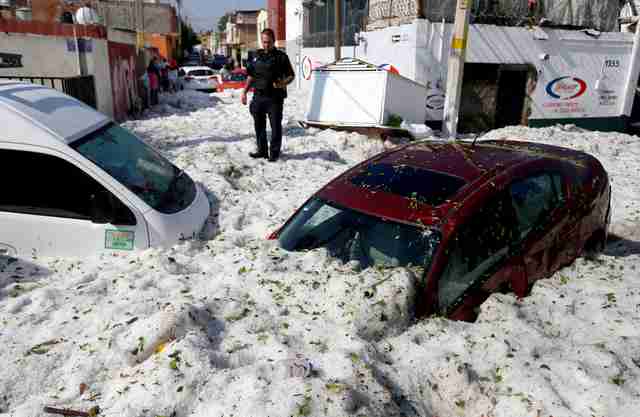 Photos from the aftermath revealed a jaw-dropping scene that looks straight out of the set of a movie about extreme weather. Incredibly, no injuries were reported, according to a tweet from Jalisco Governor Enrique Alfaro Ramirez. He added that crews were working to help folks whose homes were damaged. Officials estimate that in the hardest-hit neighborhood, Rancho Blanco, some 30 vehicles and 60 homes incurred damaged, per NPR.
"Hail more than a meter high, and then we wonder if climate change exists," Ramirez wrote in another tweet posted during the aftermath.
Although the accumulation of hail was extensive, it's worth noting that the hailstones themselves were rather small, according to the BBC, which reports they were smaller than a marble.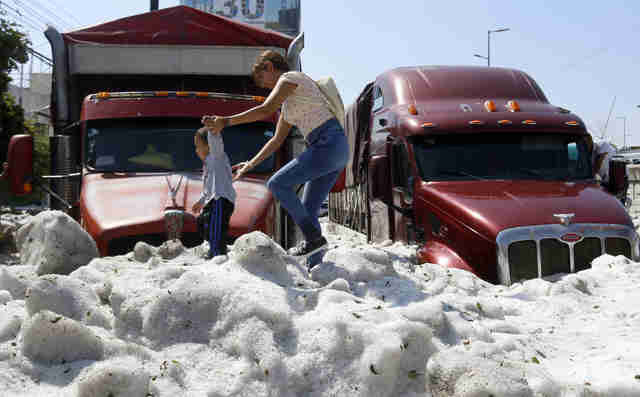 As for how and why this happened, CNN Meteorologist Michael Guy said a low pressure system near the United States/Mexico border was threatening storms nearby, but conditions morphed in such a way that this particularly strong hailstorm developed.
"The last storm along the front died out and created an outflow boundary," Guy said, explaining that the city's high elevation (it sits nearly 5,000 above sea level) contributed to the storm's rapid development. 
Sign up here for our daily Thrillist email and subscribe here for our YouTube channel to get your fix of the best in food/drink/fun.