How Much Do Super Bowl Commercials Cost in 2019?
Just how much do companies shell out for a few seconds of incredibly valuable airtime during the big game broadcast?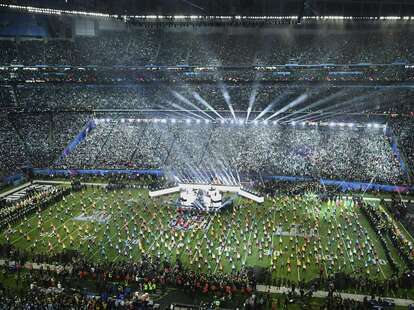 ANGELA WEISS/AFP/Getty Images
ANGELA WEISS/AFP/Getty Images
The Super Bowl is as much an excuse to sit around and watch a bunch of flashy, big-budget commercials as it is about eating your weight in chicken wings and guacamole. There's also apparently a football game that happens, too? But just how much do companies shell out for a few seconds of incredibly valuable airtime during the big game broadcast? And how much more expensive is it in 2019 than it was when the event first began in 1967?
We did some digging to figure out how much brands are paying to advertise during the matchup between the Patriots and Rams on Sunday, and how it compares to the going rate in years past.
Super Bowl Commercials Are the Most Expensive They've Ever Been
CBS, the host network for the big game this year, is commanding a whopping $5.25 million for a single 30-second spot, a record-breaking amount for such a brief amount of airtime, according to reporting from CNBC. Crunch the numbers and that means perennial big-name advertisers like Budweiser and Doritos will drop an insane $175,000 per second to get their ad in front of the predicted 100 million-plus people who'll tune in this Sunday night. That's up from last year's record-setting high of between $5.05 and $5.2 million for 30 seconds. For some perspective, commercials of similar length during a regular season NFL game cost roughly $625,000.
Some argue that the cost of a Super Bowl commercial may have peaked, though. That's because while rates have gone up this year, the increase is marginal compared to the steady increases in the past 10 years (the cost of a 30 second spot has nearly doubled since 2007). As for why, it could be due to the relatively poor ratings for last year's game, which saw its fewest viewers in nine years, according to Bloomberg.
Notably, the timing of a commercial has a big influence on what it costs, too. For instance, ads that air in the early part of the game are typically much pricier than those that air later on (early eyeballs are the most valuable). Each advertiser's deal with the network is different, though, and CBS may be offering package deals that include spots during its other popular telecasts and programming. And while the cost of even attempting to put out the commercial that people will be talking about the next day is head-spinningly high, it won't stop deep-pocketed companies from trying. Anheuser-Busch alone has booked a whopping six and a half minutes of commercial airtime during the broadcast, according to CNBC, or an estimated $34 million worth.
Buying Airtime Is Only a Fraction of the True Cost of a Super Bowl Commercial
While five million bucks is absolutely a huge amount of money to spend on a single ad, that's just one small part of what many big brands will drop overall to make sure it gets the attention they're shooting for. For one, production costs -- especially for over-the-top big budget spots -- can go well into the millions, especially when there are A-list names attached. On top of that, brands have been known to spend millions or more on simply marketing the ads ahead of time and dropping videos online ahead the big ad itself. According to at least one report from The New York Times, it's not unusual for a brand to spend about 25% of its total Super Bowl ad budget on marketing it alone.
Super Bowl Ads in 2019 Are 125 Times More Expensive Than They Were in 1967
You shouldn't be surprised that it's significantly more costly to advertise your brand during the Super Bowl now versus when the event first started, but the leap is quite something when you look back at how ad rates have changed over the years. Back in 1967, when television advertising wasn't the behemoth industry it is today, it cost a modest $42,000 to snag a 30-second commercial spot, according to AdAge. Here's how that's changed every year since, per AdAge's research.
Super Bowl I (1967): $42,000
Super Bowl II (1968): $54,000
Super Bowl III (1969); $67,500
Super Bowl IV (1970): $78,200
Super Bowl V (1971): $72,000
Super Bowl VI (1972): $86,000
Super Bowl VIII (1973): $103,500
Super Bowl IX (1974): $107,000
Super Bow X (1976): $125,000
Super Bowl XI (1977): $162,000
Super Bowl XII (1978): $185,000
Super Bowl XIII (1979): $220,000
Super Bowl XIV (1980): $275,000
Super Bowl XV (1981): $324,300
Super Bowl XVI (1982): $345,000
Super Bowl XVII (1983): $400,000
Super Bowl XVIII (1984): $450,000
Super Bowl XIX (1985): $500,000
Super Bowl XX (!986): $550,000
Super Bowl XXI (1987): $575,000
Super Bowl XXII (1988): $600,000
Super Bowl XXIII (1989): $675,000
Super Bowl XXIV (1990): $700.000
Super Bowl XXV (1991): $800,000
Super Bowl XXVI (!992): $800,000
Super Bowl XXVII (1993): $850,000
Super Bowl XXVIII (1994): $900,000
Super Bowl XXIX (1995): $1,150,000
Super Bowl XXX (1996): $1,085,000
Super Bowl XXXI (1997): $1,200,000
Super Bowl XXXII (1998): $1,292,000
Super Bowl XXXIII (1999): $1,600,000
Super Bowl XXXIV (2000): $2,100,000
Super Bowl XXXV (2001): $2,200,000
Super Bowl XXXVI (2002): $2,200,000
Super Bowl XXXVII (2003): $2,150,000
Super Bowl XXXVIII (2004): $2,302,000
Super Bowl XXXIX (2005): $2,400,000
Super Bowl XL (2006) $2,500,000
Super Bowl XLI (2007): $2,385,000
Super Bowl XLII (2008): $2,700,000
Super Bowl XLIII (2009): $3,000,000
Super Bowl XLIV (2010): $2,974,000
Super Bowl: XLV (2011): $3,100,000
Super Bowl XLVI (2012): $3,500,000
Super Bowl XLVII (2013): $4,000,000
Super Bowl XLVIII (2014): $4,200,000
Super Bowl XLIX (2015): $4,400,000
Super Bowl L (2016): $4,800,000
Super Bowl LI (2017): $5,050,000
Super Bowl LII (2018) $5,050,000

Sign up here for our daily Thrillist email and subscribe here for our YouTube channel to get your fix of the best in food/drink/fun.