Everywhere You Can Get Free & Discounted Food for the Super Bowl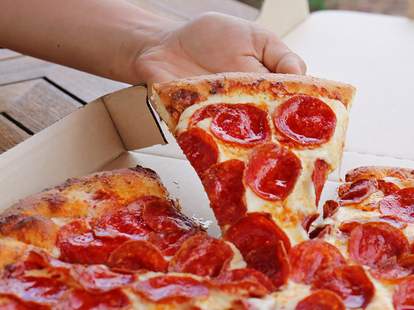 The Super Bowl, Justin Timberlake's halftime show, and the inevitable deluge of dilly dillys will arrive on Sunday. Nothing goes hand-in-hand with the Super Bowl like eating piles of greasy food and a mind-boggling number of chicken wings.
If you're going to gorge on pizza and buffalo everything, you're probably hoping to find a deal or two. And good news: deals can definitely be found, whether you're eating alone or everyone in the neighborhood. Here are a few of the best Super Bowl deals on food you'll find this weekend.
Free Food for the Super Bowl
Pizza Hut
The deal:
You can't claim this one during the Super Bowl, but
there's a freebie on the line
when the game starts. If you download the Hut Rewards app before kick-off and the fastest touchdown in Super Bowl history is scored (14 seconds) you're getting a free medium two-topping pizza.
When:
Claim the free pizza between February 8 and February 11
Wawa
The deal: Eagles fans, antagonists, and the apathetic can enjoy the Eagles success on Sunday. Wawa is giving out a free coffee of any size from morning until kickoff at 6:30pm ET. Unfortunately, it's limited to Wawas in Pennsylvania, New Jersey, Delaware, Maryland, and Virginia.
When: February 4
Food Discounts for the Super Bowl
Applebee's
The deal:
The bar and grill is offering
$1 Bahama Mamas
. No catch. No other purchase required. It's just cheap drinks.
When:
Every day in February
Wienerschnitzel
The deal: The hot dog joint is offering 25 mini dogs for $5. Each person can have up to four wiener orders during the day of the game.
When: February 4
Pizza Ranch
The deal: Get 50% off a second large pizza when you buy one at full price. Or you could just get a large pizza for the price of a medium using these coupons.
When: Through March 31
Red Robin
The deal: If you order customized burgers to-go from Red Robin's Gourmet Burger Bar, you'll get a free $10 gift card. If you're not going all out, you can still get a 20% discount on all to-go orders over the weekend.
When: February 2 through February 4
Toppers
The deal: Any Uber or Lyft driver (proof needed) in Minnesota can get a free 9-inch pizza. The promotion aims to deliver pizza to those who are delivering people to the game in downtown Minneapolis.
When: February 4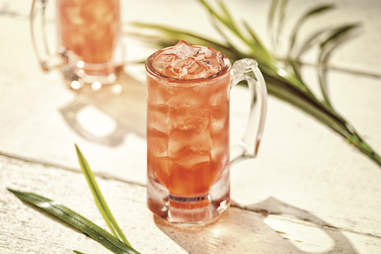 Applebee's
Hungry Howie's
The deal: Order a large one-topping pizza and get a medium pizza for just $1 if you place the order online or through the Hungry Howie's app with the code "MEDIUM1." However, you have to sign up for the Hungry Howie Club, which is free.
When: Through February 4
Pizza Patrón
The deal: The Latin-inspired pizza chain is offering two large pizzas with a 2-liter soda for just $16.99 in the lead-up to Super Bowl Sunday.
When: January 29 through February 4
Green Mill
The deal: You're probably dropping in here for the deep dish pizza, but if you're happy with a regular, you can get a large two-topping pizza and an order of wings for $19.99 on takeout or delivery. (Normally $28.49.)
When: No end date listed
Fresh Brothers
The deal: Preorder your game day meal from the California-based pizza shop, and you'll get 10% off your order with the code "SUPER18."
When: Order by February 3
Davanni's
The deal: The Minnesota-based pizza and hoagie joint is offering up a large one-topping pizza and four-piece garlic cheese bread for $18. Or, if you're watching the game with friends, you can get 15% off a hoagie party tray on the day of the game.
When: Through February 4
Deals on Super Bowl Catering
P.F. Chang's
The deal:
Take 15% off takeout and delivery orders with the code "BIGGAME."
When:
February 4
Brio Tuscan Grille
The deal: Get $10 off a to-go order of $30 off more with the code "FORTHEGAME" or $25 off an order of $100 or more with the code "SCOREBIG."
When: Through February 4
Bravo! Italian
The deal: Get $25 off any order of $100 or more with the code "SCOREBIG." If you're ordering in-store, just mention it to the cashier.
When: Through February 4
Wing Zone
The deal: All preorders for the Super Bowl get 10 free boneless wings.
When: By February 1
Giordano's
The deal: If you're in Minnesota but didn't drop $10,000 on tickets to the game, you can get 25% off an order of $52 or more. To get the deal, text "BIGGAME25" to 299-89 and you'll get instructions on redeeming the deal.
When: February 4
Sign up here for our daily Thrillist email, and get your fix of the best in food/drink/fun.
Dustin Nelson is a News Writer with Thrillist. He holds a Guinness World Record but has never met the fingernail lady. Follow him @dlukenelson.