Somehow, 'Super Mario Run' Is Bad News for Nintendo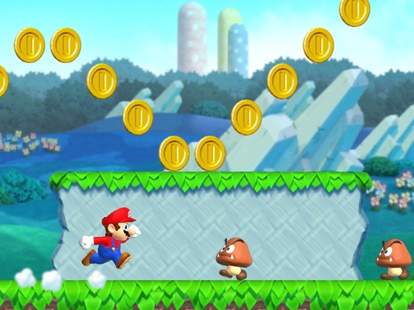 If you downloaded Super Mario Run, only to give up playing or forgo the $10 fee to unlock the full game, then you're certainly not alone. Although the game is indisputably a blockbuster hit -- soaring to the top of the App Store charts with an estimated 5 million downloads in the first 24 hours alone -- Nintendo's first foray into the smartphone gaming space has somehow been met with negative reviews from many players and unhappy investors.
As we noted in our review, the game is the Mario you know and love "through and through," and finally brings the beloved character to your iPhone or other iOS devices for the first time with simple, one-handed gameplay. Of course, needing a constant internet connection to play and having to pay 10 bucks to unlock the whole game are annoying minor drawbacks, but it's still the game Mario fans and mobile gamers all around the world have been waiting years to play. And yet, despite all the hype and what's presumably an avalanche of revenue so far, Nintendo's investors are strangely unsatisfied -- likely due to a combination of two things: thousands of poor reviews from early players and the game's simple payment model.
A report by The Wall Street Journal explains that Nintendo's shares fell 7.1% on the Tokyo Stock Exchange on Monday, the fifth day of losses in a row that have nearly erased the stock's recent gain of about 20%. It's almost like a repeat of the multi-billion dollar hit the stock took when investors realized Nintendo only owned a minority stake in this year's even bigger mobile gaming blockbuster, Pokémon Go.
Basically, analysts believe bullish investors, who bet big on the game's success, are concerned about the thousands of negative customer reviews shared on Apple's App Store that dragged its overall rating down to just two and a half stars. The game also failed to surge to the No. 1 spot on the App Store in Japan, according to the report, suggesting the game is struggling in a huge market and the birthplace of Nintendo and Mario.
On top of that, some critics say the straightforward, one-time fee of $10 to unlock the whole game could turn off some players unwilling to spend that much, and in a more general sense, prevent Nintendo from making even more money from the game over time via smaller in-app purchases, sort of like with Pokémon Go (and many other free-to-download games, for that matter). That's right: it seems like investors are pissed that Nintendo chose a payment model that puts one clear cost up front instead of gradually forcing you to pay smaller amounts in the long run (that would likely result in you spending even more) in order to continue playing, per the report. Pretty crazy, right?
What investors think about Super Mario Run shouldn't -- and likely won't -- stop you from enjoying the shit out of stomping Goombas and building your own Mushroom Kingdom, but that won't make their reaction to the game's success any less surreal. Sure, the game is far from perfect, but it's Nintendo's first big launch on a mobile platform, and hopefully just the first of many. 
Sign up here for our daily Thrillist email, and get your fix of the best in food/drink/fun.
Tony Merevick is Cities News Editor at Thrillist and must say the data connection requirement is pretty annoying. Send news tips to news@thrillist.com and follow him on Twitter @tonymerevick.