Everything You Need to Know Before Visiting Super Nintendo World
The brand new Universal Studios Hollywood attraction is officially open for business.
Courtesy of Universal Studios Hollywood
Courtesy of Universal Studios Hollywood
After much anticipation over recent years and months, Super Nintendo World just opened its giant green pipe to park-goers at Universal Studios Hollywood today and our inner '90s child is freaking out.
Perhaps the most anticipated theme park opening in 2023, the new Hollywood attraction is the first Super Nintendo Land theme area to open in the US following the successful opening of Super Nintendo Land in Japan in 2021.
So what's it actually like on the ground? Could the hype be real? We checked it out to give you the scoop.
What to expect at Super Nintendo World
When we entered through Mushroom Kingdom this week it was as if our Nintendo Game Boys came to life. Visitors can expect to encounter bright colors, fan-favorite characters like Mario, Luigi and Princess Peach, and iconic music and sounds from Nintendo video games past and present. The whole idea is to deliver an experience as authentic to the nostalgic Super Nintendo universe as possible.
"Being authentic lies at the core…Working hand in hand with Nintendo has been a phenomenal experience," Jon Corfino, Vice President, Universal Creative, told Thrillist in an interview.
Speaking of authenticity, the all-new Mario Kart: Bowser's Challenge brings guests through familiar courses while collecting coins and trying to win the Golden Cup. The best part? The integration of augmented reality goggles allows riders to fully immerse themselves in their shell throwing, question box punching, racing adventure.
Here's a closer look, via our TikTok channel:
Though the aforementioned ride is the only moving attraction in Super Nintendo World, if you're willing to shell out the $40 on the Power-Up Band you'll find plenty of interactive experiences to keep you busy all day. The Power-Up Band keeps track of your score through Universal's app as you punch your way through the land, collecting digital keys and unlocking the final test, Bowser Jr. Shadow Showdown. "That one is really cool because it represents a whole new level of interactivity where you see your shadow projected on the screen and you kind of become a little superhuman there," Corfino explained.
The Power-Up Band also enhances the character encounter experience. So don't be surprised when Princess Peach gives you some heat for your score on Mario Kart: Bowser's Challenge.
What to eat and drink at Super Nintendo World
As far as dining goes, the featured mushroom-inspired restaurant Toadstool Cafe, run by Chef Toad, elevates what guests are typically used to noshing on at theme parks with items like the Piranha Plant Caprese and the Chef Toad Short Rib Special.
The braised short rib "is one thing you wouldn't expect to find in a theme park, which makes me really happy. It's braised for four hours and then they're making a creamy goat cheese polenta with a red wine reduction," Julia Thrash, Executive Chef, Universal Studios Hollywood, told Thrillist. While some of the dishes may be a bit unexpected, the theming of the cafe's menu still has the Universal Studios kitsch guests know and love.
Among the menu items paying direct homage to the source material are dishes like the Super Mushroom Soup and the Instagram-friendly Yoshi's Favorite Fruit & Veggie Salad. Both the Mario Burger (Bacon, Mushroom & Cheese) and Luigi Burger (Pesto Grilled Chicken) come, of course, on adorably mustachioed buns, little hats and all. Desserts include the Mt. Beanpole Cake and the Princess Peach cupcake, while the beverage menu features a signature Super Star Lemon Squash drink.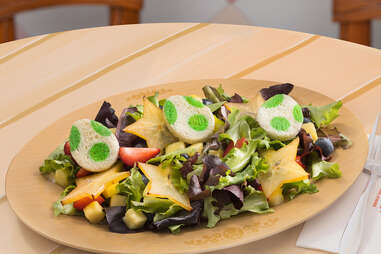 The bottom line
TLDR: The park is fun for all, though video game lovers with Power-Up Bands will probably get the most out of it. Taking in the sights and sounds of teenage years and riding on Mario Kart: Bowser's Challenge is pretty thrilling too, and likely will be for guests of all ages.
"The great part is I've seen 5-year-olds and 65-year-olds walk through the pipe and come out and see all this kinetic energy and lose their minds because they're just fans and they love it," Corfino said.
Here are some more photos of Super Nintendo World:
How to get passes
If you want to check it out for yourself, admission to Super Nintendo World is included with the regular price of entry to Universal Studios Hollywood. If you find that the attraction is at capacity when you visit, you will need to join a virtual line via the Universal Studios Hollywood app, which will also allow you to select a time to return. Super Nintendo World Early Access Tickets are also available (with prices ranging from $20 to $25), and Universal Express benefits can also help you skip the line.
For more details to plan a visit and to order tickets, you can visit Universal Studios Hollywood's website.