We had to wait until early December for the first supermoon of 2017. 2018 will be much kinder. You won't be waiting even a day. The first supermoon of 2018 lands on January 1.
So, sleep the night before off on New Year's Day and then get outside to enjoy an extra large, extra bright full moon to welcome 2018.
This supermoon is part of a trio coming in rapid succession. The first of the trifecta landed on December 3. The wolf moon (the name for the first full moon of the year) on January 1 will be the second, and the third will be extra special. It comes on January 31 and will be both a blue moon (the second of two full moons in a single month) and a full lunar eclipse. 
What Is a Supermoon?
A supermoon occurs when the full moon is at or near the part of its orbit that is closest to the earth. The moon's orbit is elliptical with an average distance from the earth is 238,900 miles. At its perigee (the closest approach of its orbit) it could be about 222,000 miles from earth.
The supermoon moniker has detractors because it's not as rare as, say, August's total solar eclipse. Moreover, the difference between an average full moon and a supermoon is noticeable but not massive. With a supermoon, the moon appears about 14% bigger and 30% brighter than when the moon is near its apogee or furthest point of orbit from earth. While that's not the kind of thing causing people to have spiritual awakenings, it is bigger and brighter, so just let us have this, Neil DeGrasse Tyson. 
The term supermoon has been around for about 40 years. However, it became popular in 2016 when there were three supermoons in a row, just like you're seeing right now.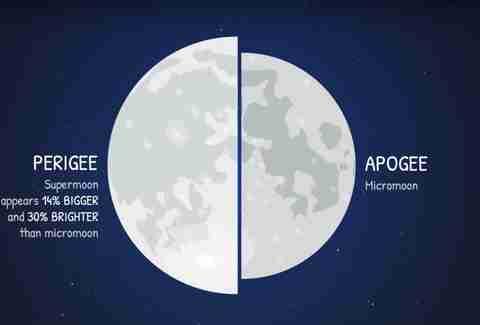 If the abysmal weather conditions have you thinking twice about going outside for any length of time, Slooh will have a live stream of the supermoon with a discussion about the event starting at 9pm ET on January 1. It's not the same as seeing it yourself, but it will definitely be warmer.

Sign up here for our daily Thrillist email and subscribe here for our YouTube channel to get your fix of the best in food/drink/fun.