Everything You Need to Know About Surly Darkness
Big, dark, and boozy might explain the times we're living through, but they're also apt adjectives to describe the kind of beers that are coming out around this time of year. Those high-ABV barrel-aged beers released in limited quantities are coming through just as the weather turns cold.
Some of those beers still maintain an aura of exclusivity with long lines and limited availability, but many of the beers that were a big part of that culture aren't that hard to come by any longer. You can find Goose Island's Bourbon County Stout or KBS from the embattled Founders Brewing at the store a year after the release. The truth with Surly Darkness, annually released on Halloween, is somewhere in the middle. 
Beer lovers still wait in line and celebrate Surly's Darkness Day, held around a month before the public release. There's excitement, but you can find it in a store if you don't get tickets to Darkness Day or get to the liquor store early on Halloween morning.
What is Surly Darkness?
Surly first released the Russian imperial stout in 2007. People stood in line in the snow for hours to get their hands on the 750ml bottles (or growlers in that first year). Since then, a lot has changed for the Minnesota brewery. Taprooms have come to the state, a regular release date was set for Halloween, and the brewery no longer hosts a small concert at its original Brooklyn Center location to celebrate the release of Darkness. 
Instead, they host a massive two-day event at an amphitheater in Somerset, Wisconsin. It still has the feel of the original Darkness Day, though. People wait in line for bottles, and the night before the Saturday release and concert, fans get together, camp, and have an informal bottle share.
The brewery makes 666 barrels of the beer with new sinister-looking art adorning each new release. This year's artist is Tim Chapman, who created the six-limbed monster tearing apart what appears to be the Surly brewery. Maybe it doesn't know you can just get Darkness at the store. 
Surly/Darin Kamnetz
Where can I get Surly Darkness?
At this point, the waiting in line and participating in the bottle share is more about the experience than the demand. (Also, it's about getting Darkness variants, which are, broadly speaking, only available at Darkness Day.) 
Now, Darkness is available pretty much wherever Surly distributes. (That footprint, since last year, has expanded to include Michigan, Arizona, and St. Louis.) It's released on Halloween, but it doesn't last long. It generally isn't gone in a week, but if you wait four months, you might have a little trouble tracking it down. Surly's beer finder doesn't list which specific beers are available at each location. You'll want to call your local shop or use an app like Untappd.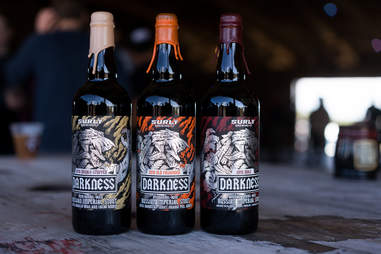 Surly/Darin Kamnetz
What are the Surly Darkness variants?
Darkness
The 2019 edition of the original isn't going to surprise anyone familiar with previous installments. It still has that thick, syrupy malt profile with more than a touch of chocolate and vanilla. It's as delicious as ever. Though many people like to cellar their Darkness, when you get it fresh, it's a nice reminder of the hop profile that's very present. It starts to fade with time, but a recently bottled taste has a nice hop bitterness resting on top of the sweet, malty flavors.
Double-Stuffed Darkness - Rum Barrel-Aged Russian Imperial Stout
In 2018, Surly released variants on the classic Darkness in bottles for the first time. Following the release, they sent folks who bought the suite of bottles a survey to see what they'd like in variants going forward, Surly Vice President of Marketing Bill Manley tells Thrillist. Double-Stuffed is the beer that came out of those surveys. Though, Surly had already been testing something similar in-house. 
The rum hits you hard. These barrels were wet, and the beer carries a strong dose of liquor. It's slightly drier and a little thinner than the classic, but it might appeal if you like rum or a little sweeter stout. The strong pop of vanilla, with added vanilla to what was already present in Darkness, buries most of the chocolate flavor that's present.
Molé Darkness - Bourbon Barrel-Aged Russian Imperial Stout
This is the outlier of the bunch. It's a surprising direction, almost playing like Mexican chocolate. It uses a chocolate syrup made in-house by chefs at the taproom with ancho chili and cacao nibs. This one diverges from the most from the original, even though the rum in the Double-Stuffed is notable. Here, there's a spice that comes in on the aftertaste. You feel it in the throat. It's not so spicy that there are people who couldn't handle it, but it's not entirely subtle. It's an interesting twist, but, on a personal level, it's not my favorite. Though, it wouldn't be at all surprising to discover that lots of people love it.
Old Fashioned Darkness - Rye Barrel-Aged Russian Imperial Stout
The final of the three variants is inspired by an Old Fashioned cocktail. As the beer warms, the rye starts to come to the surface, which is a boon for the beer. There's so much orange peel in the aroma that it might scare you off, but, in truth, it's well-blended into the beer and doesn't overpower anything. This was my favorite of this year's variants by quite a lot. It's got a nice balance, a little playfulness, and it's just a good beer you won't get sick of drinking.  
Sign up here for our daily Thrillist email and subscribe here for our YouTube channel to get your fix of the best in food/drink/fun.