If you've ever had the pleasure of seeing the Northern Lights dance with your naked eye, it's easy to understand why so many people flock to far-flung places in the Northern Hemisphere just for a chance to watch the Aurora Borealis in action. And now, a new spa hotel in Sweden is offering its guests a front row seat -- floating in the middle of a remote river. Meet Arctic Bath.
Recommended Video
Are You Brave Enough to Walk Around on the Wings of a Biplane While It's Flying at 3,500 Feet?
Opening later this year, the Arctic Bath hotel will float freely in the the Lule River and was conceived by the same team behind the stunning Treehotel in nearby Harads, Sweden. The forest also plays into its design, though in a slightly indirect way. Specifically, it's meant to resemble a jam of timber sent down the river to a paper or pulp mill -- an homage to the importance of the country's forest economy. 
Its main hub will be a circular, open-air outpost for lounging surrounded by a cold and hot bath, several saunas, spa treatment room, lounge, shop, bar, and restaurant. At its center, there's a cut-out that creates a mini pool of river water, which remains accessible all year round -- even when the river freezes and the water below the surface dips to a frigid 39 degrees in the winter. After all, that's the best time to check out the Northern Lights in Sweden.
That hub will also connect with a series of six separate guest rooms, which like the hub will float in warmer months and freeze in place in the winter. Each one's roughly 270 square feet with a minimalist interior and big windows, all the better to catch a glimpse of nature's light show up in the sky.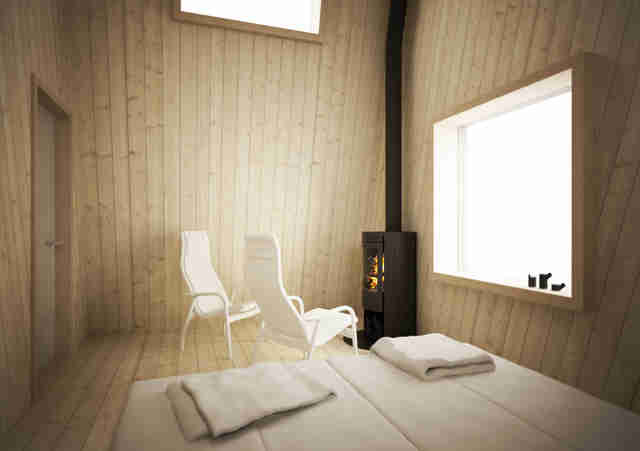 Since it won't officially open until the "later part" of 2018, AB isn't accepting reservations yet. But keep your eyes on the website in the coming months if you want to be one of the first overnight guests. 
Sign up here for our daily Thrillist email and subscribe here for our YouTube channel to get your fix of the best in food/drink/fun.