This Genius New Site Lets You Rent Strangers' Swimming Pools by the Hour
There is no true antidote to hazy days-long heatwaves, but cooling off in a chill backyard pool may be the next best thing...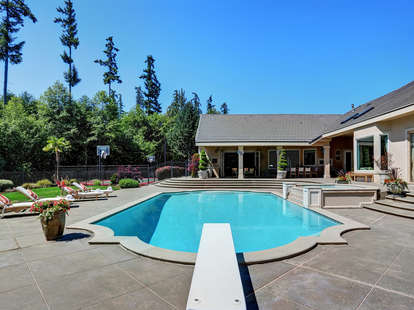 Shutterstock
Shutterstock
There is no true antidote to hazy, days-long heatwaves, but cooling off in a chill backyard pool may be the next best thing. That is, if you have access to a pool or are pals with a generous neighbor who invites you over for a dip when the mercury spikes. Luckily for the rest of us, there's an ingenious new service that lets you rent out strangers' private pools on-demand, so you escape the heat whenever you want. Meet Swimply.
Arriving just in time for the heat of late summer, Swimply is a brand new service that allows folks with swimming pools to rent theirs out to complete strangers by the hour, describing itself as the "first online marketplace for pool sharing." In other words, it's an Airbnb for pools, and we've been waiting for something just like it for a long, long time.
The site, which was dreamed up when its founder was looking for creative ways to put his rarely-used backyard pool to good use, allows you to easily sign up and check availability of listed pools nationwide, then book them directly for the amount of time you'd like. Many of the ones we found listed have a one-hour minimum, though you can easily request whatever time-frame you're shooting for. The per-hour prices are all over the map, but we were able to find several pools in locations we checked with a going rate under $100.
Although Swimply is based in New York, there are listings all over the country (currently there are pools available in Arizona, California, Connecticut, Florida, Georgia, Illinois, Maryland, Massachusetts, Michigan, Nevada, New Hampshire, New Jersey, New Mexico, New York, North Carolina, Oregon, South Carolina, Texas, Vermont, and Virginia). A quick search of New York-area pools populated 35 different results, including a handful of beautiful saltwater options less than 10 miles away.
Each listing features photos and a description, as well as whatever amenities are included (everything from BBQ grills and lounge chairs, to towels and toys). You'll also see what the maximum number of guests is, so you know how many friends to bring along (and split the cost with).
Booking is also easy, but just a heads up: like Airbnb, you'll incur a service fee on your reservation. Then again, a service fee is modest price to pay to spare yourself from an otherwise sweat-soaked Saturday spent sitting in front of your air conditioner.
h/tPureWow
Sign up here for our daily Thrillist email and subscribe here for our YouTube channel to get your fix of the best in food/drink/fun.