A Brewery Was Forced to Pull Beer Cans With Very NSFW Reindeer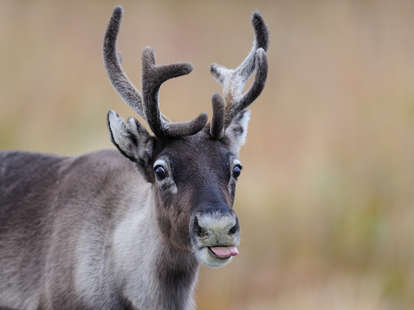 Craft brewers toeing the line -- crossing it on occasion -- isn't new. It's an industry that has frequently rewarded risk-takers. However, the risk taken by Charlotte, North Carolina's Sycamore Brewing was relatively small, and it certainly hasn't been rewarded.
Sycamore made changes to the design of its annual Christmas Cookie Winter Ale. The can is wrapped in what looks like a snowflake-adorned ugly holiday sweater. Though, if you look closely at the pixelated sweater design, it's actually a couple of reindeer cooking their way through the Kama Sutra.
The sexy can sweater upset at least one person, the Charlotte Agenda reports. An anonymous tip sent to the North Carolina Alcoholic Beverage Control Commission led to a visit from Alcohol Law Enforcement. Sycamore was informed there were two issues with their randy reindeer. For starters, the design wasn't sent to the Commission for approval. Also, it likely wouldn't have approved the design even if it was submitted properly, per the Agenda.
Co-owner Sarah Brigham noted that the cans were never meant to hit shelves in places like grocery stores. So, the brewery thought it could have a little more fun with the label.
The brewery was fined for not getting label approval, but it will still be selling the beer -- with a slightly different design -- at its Charlotte taproom. "We're in a moment in our country where the president is up for impeachment, there are school shootings, there's all this horrible stuff going on," co-owner Justin Brigham told the Charlotte Agenda. "And ya know, seven-and-a-half percent (ABV) beer that tastes like cookies, with pixelated reindeer? That's a nice reprieve I think."
The whole situation makes the new cans fun if you know what secrets they're hiding. The cans are being wrapped in the old label. If you peel that label back, you'll find a saucy surprise underneath.
Sign up here for our daily Thrillist email and subscribe here for our YouTube channel to get your fix of the best in food/drink/fun.