This Super-Fan Is Celebrating Her 100th Birthday at Taco Bell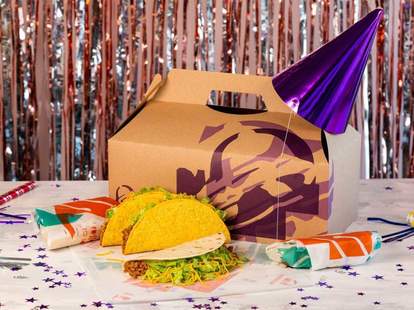 I recently attended a birthday party that was catered by Taco Bell, with endless Mexican pizzas, burritos, and both hard and soft tacos to go around. Taco Bell, if you didn't know, is an ultimate birthday food. And I'm not the only person to think that: a Tucson woman is inviting 50 family and friends to a local Taco Bell and celebrating her 100th birthday, complete with a mariachi band and enough tacos to make this party the taco the town.
The woman, Wanda Walston, has been visiting Taco Bell for over 55 years, according to KOLD News. Her go-to order is two tacos and a Pepsi, which she'll certainly have on the day of her party, November 29. "I love their tacos because it's the closest flavor to what I used to make at home," she said.
Walston also celebrated her 99th birthday at the Taco Bell last year, with her late husband of 78 years. Tacos, like love, are best shared with others.
It's not the first time that Taco Bell has been the setting for a rambunctious birthday party; back in 2017, a Phoenix Taco Bell threw a birthday party for a 106-year-old customer. I just hope the Taco Bell provides endless amounts of Birthday Baja Blast for the festive occasion and that Walston enjoys the triple digits she's entering.
h/t: KOLD News 13
Sign up here for our daily Thrillist email and subscribe here for our YouTube channel to get your fix of the best in food/drink/fun.
Kat Thompson is a staff writer at Thrillist. Follow her on Twitter @katthompsonn.