Taco Bell Is Officially America's Favorite 'Mexican Restaurant'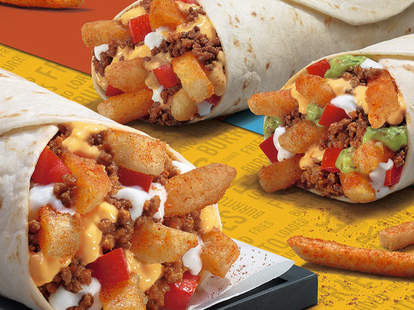 Perhaps there's no better marriage than America and a quesadilla stuffed with Kit Kats. That certainly seems to be the case, given a new Harris Poll EquiTrend Study, which determined that the most cherished Mexican restaurant in the United States is Taco Bell.
The home of monstrosities such as the Naked Chicken Chalupa, French Toast Chalupa, and Double Chalupa has captured America's imagination better than its counterparts, largely owing to its zany marketing strategies, the study found. For the study, 77,031 US consumers at least 15-years-old were surveyed online between January 3 and February 15. T-Bell outpaced Chipotle and Moe's Southwestern Grill, the latter of which had previously won the award in 2016 and 2017, Yahoo Finance reports. 
Taco Bell led the charge not because it serves authentic and fresh Mexican cuisine -- it definitely doesn't -- but because of the brand's tendency to create wild stunt foods that stoners love. As Amir Kanpurwala, the director of the survey, said: "Taco Bell's marketing is ubiquitous so it wasn't surprising to me that they came out on top this year. It's not so much that Moe's or Chipotle are falling off the map. Taco Bell has just been a stronger brand as of late, as demonstrated by the strong familiarity and consideration marks."
Chipotle, while still a wildly popular brand with its own share of cultish fans, has suffered remarkably in recent years, due to its sluggish recovery from a series of food borne illness outbreaks in 2015 that tarnished its public image. 
In any case, the proof of Taco Bell's marketing genius is fairly apparent, what with the company bantering with rock stars about french fries on Twitter, and occasionally teasing the public with its own beer. 
But please just remember that it's not actually Mexican food. 
Sign up here for our daily Thrillist email and subscribe here for our YouTube channel to get your fix of the best in food/drink/fun.
 
Sam Blum is a News Staff Writer for Thrillist. He's also a martial arts and music nerd who appreciates a fine sandwich and cute dogs. Find his clips in The Guardian, Rolling Stone, The A.V. Club and Esquire. He's on Twitter @Blumnessmonster.