Taco Bell's New Birthday Baja Blast Is a Sprinkle-Filled Frozen Dream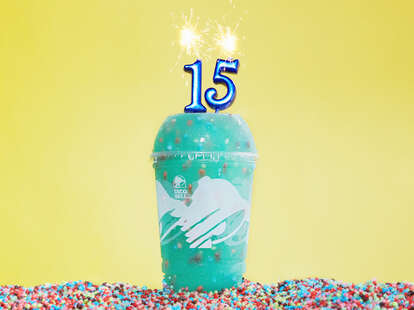 Courtesy of Taco Bell
Courtesy of Taco Bell
Time to sing "Happy Birthday" and blow out the candles. Taco Bell is celebrating 15 years (yes, 15!) of the Baja Blast -- the vaguely fruity, exclusive Mountain Dew beverage that delivers a refreshing kick of "tropical lime." What tropical lime is remains a mystery. Is it a calamansi? A makrut lime? Perhaps key lime? Maybe just artificial flavors and syrups? We may never know, but it's good.
In honor of the alluringly blue beverage, Taco Bell is launching a super limited-edition Baja Blast Birthday Freeze, which basically takes the original, sugary slushy and swirls it with colorful candy confetti. It's like a Baja Blast party in your mouth and you're exclusively invited. The Baja Blast Birthday Freeze first debuted at the Taco Bell hotel this summer, but this marks the first time the confetti-like drink can be purchased nationwide.
The Baja Blast Birthday Freeze will set you back $2.49 for a regular size, $2.79 for a large, or $1 if you stumble in a Taco Bell during its happy hour, from 2pm to 5pm. So if you're in a festive mood, get your hands on one of these candy-studded slushes -- and maybe even score a free Xbox while you're at it.
Sign up here for our daily Thrillist email and subscribe here for our YouTube channel to get your fix of the best in food/drink/fun.
Kat Thompson is a staff writer at Thrillist. Follow her on Twitter @katthompsonn.