Taco Bell Has New Buffalo Chicken Nacho Fries & You Can Get Them in a Burrito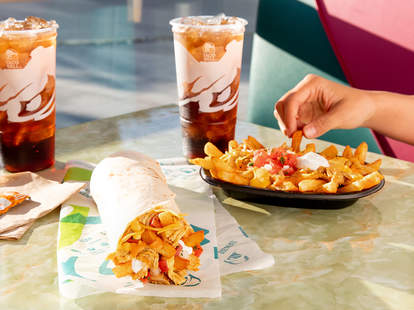 If you're anything like me, "New Year's resolution" is just a series of meaningless words strung together and thrown around this time of year. The start of a new year is business as usual, and that means continuing a steady diet of Taco Bell's newest menu items.
The purveyor of Nacho Fries (which return to menus on January 30) has taken its original recipe and made it, approximately, a million times better. This isn't a knock on the chain's classic version, but rather praise for the rookie, Buffalo Chicken Nacho Fries. Taco Bell has taken its insanely popular seasoned French fries and doused 'em in buffalo sauce, chicken, shredded cheddar cheese, warm nacho sauce, pico de gallo, and sour cream. The chain officially announced their arrival on Thursday.
"This isn't the first time Taco Bell has paired innovative flavors with its number one best-selling product launch to date, but Buffalo Chicken Nacho Fries tap into the cultural and culinary elements of the season like never before," the company said. "Flavors including Steak Rattlesnake Fries and Reaper Ranch Fries have appeared alongside Nacho Fries previously, and now Taco Bell is giving fans a new twist and whole new reason to try the fan-favorite menu item."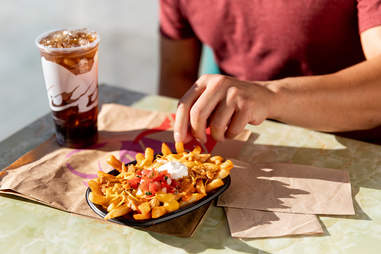 Courtesy of Taco Bell
But that's not even the kicker, my friends. It's this: you can take that mountain of tangy, buffalo sauce-smothered french fries and have them stuffed inside a burrito. For the same price. The fries -- in traditional and burrito style -- will be available for $2.99 on January 30, right alongside classic Nacho Fries. Leave you ketchup at home and we'll see you at the Fire Sauce packet container.
Sign up here for our daily Thrillist email and subscribe here for our YouTube channel to get your fix of the best in food/drink/fun.
Megan Schaltegger is a staff writer at Thrillist. Follow her @MegSchaltegger.