Taco Bell rocked the Crunchwrap-eating world in December, when it started serving big boxes of buffalo chicken nachos as a test menu item in Charlotte, North Carolina. The chain's menu is gushing with all sorts of spicy and savory sauces, but you rarely -- if ever -- see buffalo among them. Sadly, the buffalo nachos have yet to hit the national menu, but it looks like the chain is working on another new buffalo-flavored creation: Buffalo Chicken Nacho Fries.
On Thursday, T-Bell unveiled the spicy menu item as part of a series of new takes on its wildly popular Nacho Fries. As the Doritos Locos purveyor explains in a press release, Buffalo Chicken Nacho Fries are made by taking its gratuitously seasoned Nacho Fries and heaping them with shredded chicken, tangy buffalo sauce, shredded cheese, nacho cheese sauce, sour cream, and pico de gallo. You can order the fries nacho-style or wrapped up in a tortilla as a burrito. They're currently available to order for $3 at Taco Bell locations in Memphis, but there's a chance they'll get the nationwide release that America deserves. In the meantime, your usual fistful of Fire Sauce packets will have to do. 
Recommended Video
Tuna Eyeball with Timothy DeLaGhetto and Ben Sinclair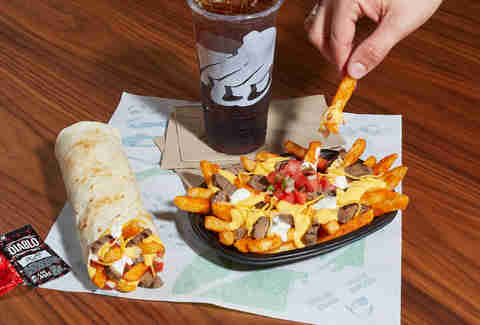 Taco Bell is also putting another new twist on Nacho Fries with... vampires? They're called Vampire Steaked Fries, and both the nacho and burrito versions come sporting a brand-new Vampire sauce that's described as "a spicy-savory sauce with flavors of garlic and jalapeños." We're guessing the name was inspired by the garlic component of the sauce, but then again, who knows. The fries also come loaded with steak, nacho cheese sauce, shredded cheese, and pico de gallo. You can only get these bloodsucking bad boys in Chicago for now, but maybe the rest of the country will get a bite some day.
While Buffalo Nacho Fries and Vampire Steaked Fries sound kind of wild, another new Nacho Fries combo appears to be markedly more tame. Taco Bell said its new Loaded Taco Fries "combines the classic flavors of the Crunchy Taco with the bold flavors of Nacho Fries," per the press release. Both the nacho and burrito versions are made with the seasoned fries, nacho cheese sauce, ground beef, lettuce, tomatoes, crunchy red tortilla strips, shredded cheese, and sour cream. For now, you can find 'em only in Toledo, Ohio. 
Like with all Taco Bell test launches, an eventual nationwide rollout all depends on how popular the new menu items are. In other words, it's up to everyone in these respective cities to not screw it up for the rest of us. If Charlotte had ordered more boxes of buffalo chicken nachos, maybe they'd be on the menu at every 'Bell right now.
For now, the good news is that Taco Bell is actually unleashing extra-spicy Steak Reaper Ranch Fries, which it initially served in a Cincinnati test phase, nationwide. Good job, Cinci. 

Sign up here for our daily Thrillist email and subscribe here for our YouTube channel to get your fix of the best in food/drink/fun.