More Taco Bells With Alcohol Are Coming, Including a Gaming-Themed One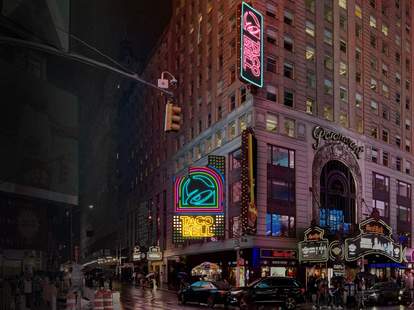 Taco Bell gives and gives and gives. We've gotten Nacho Fries, the Doritos Locos Taco (which took years to come to fruition!), and the glorious Taco Bell Cantina -- a fast casual version of Taco Bell that supplies us with booze and good times. And now, Taco Bell is fully prepared to give us more with a Taco Bell Cantina expansion. Yes, your local Taco Bell might just be getting a makeover.
This cantina expansion includes a new Times Square location slated to open in the fall of 2020 that will be the "most technology-forward Taco Bell to date," according to the Mexican-inspired chain. Additionally, Taco Bell is testing a gaming-themed Taco Bell Cantina in San Ramone, California, which will allow you to enjoy your Taco Bell favorites between video game showdowns. Taco Bell has regularly given away an Xbox consoles for years, so this seems like a natural progression of two things that fit hand in hand.
"By tapping into cultural insights, we've learned that our customers want to engage with the brand in a way that amplifies their social nature," Taco Bell president and global chief operating officer, Mike Grams, said in a press release. "We are once again pushing the boundaries of the traditional QSR dining experience by setting the stage for our 'fast-social' restaurants, which introduce dynamic dining rooms and lean into social gatherings."
Lastly, Taco Bell will be rolling out upgrades to a handful of existing Taco Bells to see whether the more modern upgrades are worthy of being applied at a national level. Though the drive-thru accounts for roughly 70% of Taco Bell's business, the chalupa champions are focusing on untapped potential within the confines of the dining room.
Let's just hope these upgrades also include a limitless supply of Reaper Ranch sauce and Nacho Fries that aren't only available for a limited time.
Sign up here for our daily Thrillist email and subscribe here for our YouTube channel to get your fix of the best in food/drink/fun.
Kat Thompson is a staff writer at Thrillist. Follow her on Twitter @katthompsonn.