Despite Taco Bell's exciting plans to serve alcohol at its fancy new restaurant in San Francisco, it turns out the only location that currently offers boozy slushie drinks, beer, and wine is the first of the company's urban-themed "Cantina" restaurants, located in Chicago's Wicker Park neighborhood. But now, it appears that several more boozy T-Bell restaurants are -- finally! --  coming soon, according to big plans Taco Bell revealed on Tuesday. 
The company said it's currently eyeing Atlanta for its next Cantina outpost, the restaurant concept that's distinguished from your typical T-Bell by things like an open kitchen, local artwork, food served in open baskets, shareable menu items, and -- most importantly -- alcoholic beverages including beer, wine, sangria, and "Twisted Freezes" (spiked frozen drinks). However, a Taco Bell spokeswoman said boozy Taco Bell won't be coming to Atlanta. Fortunately, Taco Bell's alcohol-soaked plans don't end there, as it hopes to open booze-slinging restaurants in "numerous cities across the US" like New York and Boston as well as smaller metro areas like Austin, Berkeley, Fayetteville, and cities in Ohio. 
Recommended Video
Get Lucky With This Next-Level St. Paddy's Day Meal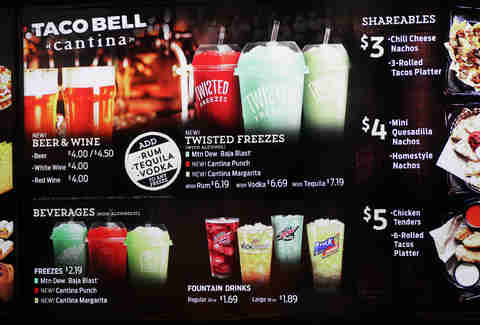 In fact, Taco Bell has already received approval to serve alcohol at the Cantina location (2000 Guadalupe St) it plans to open near the University of Texas campus in Austin; however, there's currently no opening date set, according to a report by the American-Statesman. And as explained in a report by Eater, the company is working on a liquor license for the restaurant it plans to open in Berkeley (2528B Durant Ave), which also happens to be a near a school, the University of California, Berkeley.
It's unclear if and when the existing Cantina restaurant in San Francisco's SoMa neighborhood will serve alcohol, but a Taco Bell spokesperson said that could change soon, per the report. We reached out to the company for details on when and where to expect a new boozy Taco Bell to open first. 
Taco Bell also announced the rollout of four fancy new restaurant designs that will gradually replace the crusty, old Taco Bell look you're used to and will appear in the 2,000 new locations the company said it plans to open by 2022. In other words, Taco Bell is about to get bigger, boozier, and a much-needed facelift. It's worth noting, too, that Taco Bell said it has no plans to serve alcohol outside of its Cantina restaurants.
Months after a Thrillist investigation revealed Taco Bell's liquor license application for the Wicker Park Taco Bell Cantina restaurant last spring, Taco Bell finally opened the new restaurant concept in September with a menu featuring new food items and the spiked frozen drinks, beer, and wine. Basically, it's the Taco Bell that every other Taco Bell should have been this whole time. But if the Doritos Locos maniacs have their way, there will be plenty more of the boozy 'Bells in no time. 
Sign up here for our daily Thrillist email, and get your fix of the best in food/drink/fun.
Tony Merevick is Cities News Editor at Thrillist and still needs to experience a boozy Taco Bell resturant. Send news tips to news@thrillist.com and follow him on Twitter @tonymerevick.