Incredibly Chill Lady Celebrates 101st Birthday at Taco Bell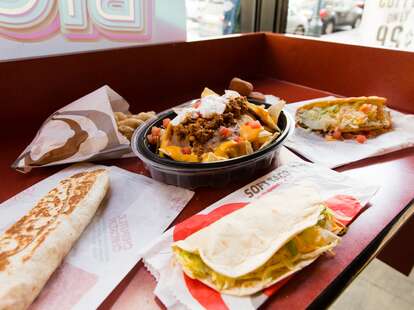 In this life, it's important to figure out what matters to you. That may be money, or art, or that weird zoing noise springy doorstops make when you flick them -- whatever. You just have to know what you want. For one exceedingly chill centenarian, that's Taco Bell.
Her name is Ruth Parker, she's called Miss Ruth, she is 101 years-old, and she just celebrated her birthday with a trip to the chamber of ground meat and shredded cheese. And for this, we salute her.
Miss Ruth lives in Carbondale, Illinois, and this isn't the first birthday she's celebrated at T Bell. In fact, KFVS reports that she's been coming to that particular Taco Bell every Tuesday and Friday for around 18 years.

She began frequenting the taco chain as a place to read her paper and drink coffee -- admittedly not the most traditional use of a Taco Bell, but that's why she's the one in the papers and you're the one reading about her. Coffee isn't even on the menu, but they served it to her anyway. So, clearly the staff loves her.
"No matter what, we all know Miss Ruth and we all make her a part of our lives and, you know, we talk to her and we just love her to death," Store Manager Rebecca Gefro told the news station.
After almost two decades of eating there, she claims she's had almost everything on the menu. But she's still open to new things despite her age: "Right now I'm hooked on their taco fries. They're delicious!"
Happy birthday, Miss Ruth. Shout out to a real one.
Sign up here for our daily Thrillist email and subscribe here for our YouTube channel to get your fix of the best in food/drink/fun.