Taco Bell Debuts New Cheddar Crisps in Mild, Nacho Cheese, and Fire Flavors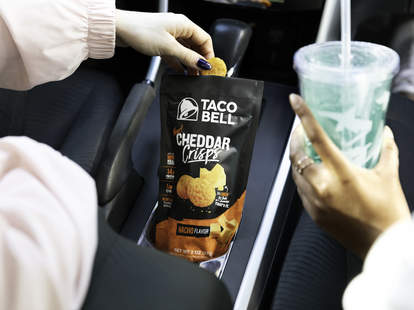 It's 2020 and I'm unashamed to simply eat cheese as a snack these days, and I'm not alone. Even outside of the keto diet, people are opting for low-card, hight-fat snacks, like cheese crisps. So, it's not too surprising that Taco Bell is throwing its hat in the cheese snack ring with the launch of new Cheddar Crisps.
The new line of snacks come in three flavors inspired by the Crunchwrap purveyor's menu: Mild, Nacho, and Fire, according to a press release. For now, you can get the Cheddar Crisps at most Kroger and 7-Eleven locations, but T-Bell said they'll also be available on Amazon soon.
"From the classic Cheesy Gordita Crunch to the Toasted Cheddar Chalupa, we've been giving fans new and exciting ways to satisfy their cheesy cravings for years. Cheddar Crisps are the next evolution to give our fans a new way to satisfy their Taco Bell cravings," said Taco Bell's Senior Director of Brand Marketing, Taylor Montgomery, in a press release. "Our ability to package up the bold Taco Bell flavors fans love into these new crisps is our distinct advantage when it comes to entering this new crisps category."
It's not the first time Taco Bell has ventured out of the drive-thru lane and into the snack aisle. Back in 2018, the company released bags of hot sauce-flavored tortilla chips, and in 2019 even provided us with a surprisingly hot Reaper Ranch rendition.
We were able to try Taco Bell's Fire-flavored Cheddar Crisps and they're definitely not as fire as we'd hoped. Maybe Taco Bell will come out with a Reaper Ranch or Diablo version and give us the heat we actually want and need.
Sign up here for our daily Thrillist email and subscribe here for our YouTube channel to get your fix of the best in food/drink/fun.
Kat Thompson is a staff writer at Thrillist. Follow her on Twitter @katthompsonn.