Taco Bell's Double Cheesy Gordita Crunch Is Officially Back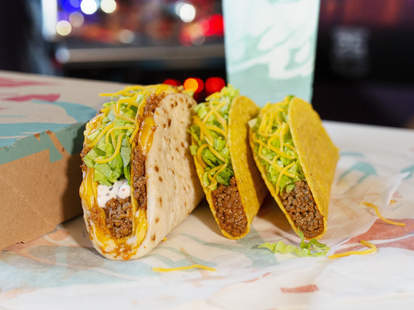 We all know and love the Cheesy Gordita Crunch. It's a Taco Bell classic that's been on the menu since 2000 and survived Taco Bell's giant menu purge last year. It's as reliable as it is cheesy, and we love it for that. The Double Cheesy Gordita Crunch, however, has extra flair. It launched in 2018 and is now making its homecoming, returning to the menu for the third time with its glorious layers of flat bread and crunchy taco shell. The Double Cheesy Gordita Crunch is officially back, baby.
If you haven't yet experienced the magic that is a Double Cheesy Gordita Crunch, then expect a crunchy taco shell stuffed with seasoned beef, cheddar cheese, lettuce, and spicy ranch blanketed in a cozy flatbread that's also crammed full of beef, cheddar, pepper jack, and mozzarella. This is ideal for any cheese lover.
You can get the Double Cheesy Gordita Crunch on its own for $3.49 or in a box, alongside two crunchy tacos and a medium drink, for $5.99.
In addition to this particularly cheesy news, Taco Bell is also testing new Steak Firecracker Fries. Nacho fries -- and the latest iteration that is smothered with buffalo sauce -- are currently making their ways to the menu, but Steak Firecracker Fries are only being tested in Detroit as of now.
The Steak Firecracker Fries take Taco Bell's signature Nacho Fries and covers 'em in grilled steak, nacho cheese sauce, cheddar cheese, sour cream, pickled jalapeños, and T-Bell's brand new "Firecracker sauce," made with a blend of heat-packing peppers. It might not be Reaper Ranch, but we're interested in seeing how hot this new sauce really is. Hopefully Firecracker Fries will go nationwide, but in the meantime we'll definitely be stuffing our faces with Buffalo Chicken Nacho Fries.
Sign up here for our daily Thrillist email and subscribe here for our YouTube channel to get your fix of the best in food/drink/fun.
Kat Thompson is a staff writer at Thrillist. Follow her on Twitter @katthompsonn.