Taco Bell's First-Ever Fried Chicken Tenders Have a Tortilla Chip Crust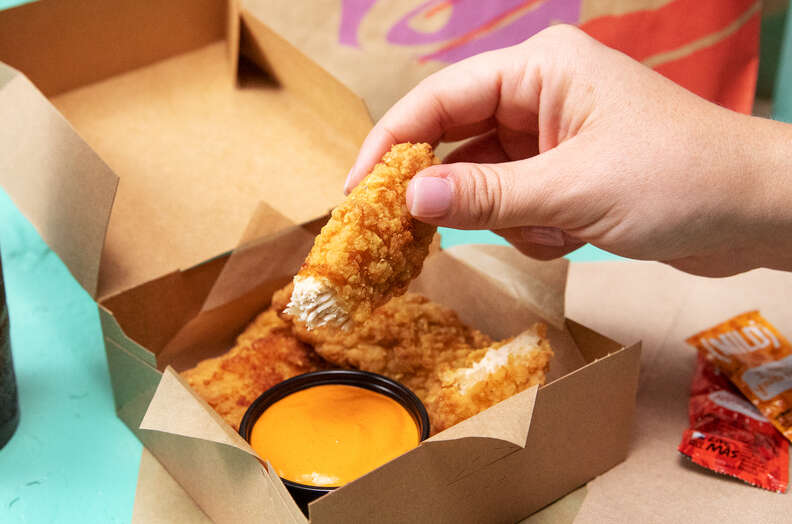 Courtesy of Taco Bell
Courtesy of Taco Bell
Taco Bell has a knack for taking a simple, universally beloved food item and transforming it into something even better. Take, for example, the Doritos Locos Taco: the ubiquitous crunchy Taco at Taco Bell truly benefited from a generous dusting of Nacho Cheese Doritos powder. Now, it looks like Taco Bell is enhancing yet another popular fast food menu item with the launch of its first-ever fried chicken tenders.
Fried chicken. At Taco Bell. Really. The all-new menu item is dubbed Crispy Tortilla Chicken, and you can guess why. The tenders feature all-white meat chicken that's been marinaded in jalapeño-infused buttermilk and dredged in crunchy crushed tortilla chips, then fried, a spokesperson for the chain told Thrillist. In other words, T-Bell is putting a slight, Mexican-inspired twist on classic chicken tenders -- just like it did with Nacho Fries, its unique take on French fries. They're an instant game changer.
The Crispy Tortilla Chicken can be ordered two ways: As a box of tenders served with a new (and nameless) signature dipping sauce, or tucked in the confines of a plushy soft taco with toppings like lettuce, cheese, and diced tomatoes.
Taco Bell said it expects to unleash Crispy Tortilla Chicken at its locations all across the United States sometime in early 2020, but those in Dayton, Ohio and Houston, Texas can get an early taste during a test launch starting soon, according to the company. The soft taco will set you back $1.99, while a two-piece order of the tenders will cost $2.99, and a three-piece will cost $3.99. There will also be $5 and $7 meal boxes.
It's unclear if Taco Bell is directly trying to get in on all the fried chicken action surrounding the Popeyes fried chicken sandwich and the subsequent social media war with Chick-fil-A and other fast food chains, but a spokesperson did say the new menu item went through over 100 iterations before this launch. Whatever the case, we won't question it too much. We love Taco Bell and fried chicken, so we're excited.
Who knows -- maybe Crispy Tortilla Chicken will knock out our pick for the best chicken nuggets and tenders in all of fast food.
Sign up here for our daily Thrillist email and subscribe here for our YouTube channel to get your fix of the best in food/drink/fun.
Kat Thompson is a staff writer at Thrillist. Follow her on Twitter @katthompsonn.