How Well Does Taco Bell Hold Up via Delivery? We Ordered & Found Out.
We revisit some of America's most iconic fast food items in the age of social distancing.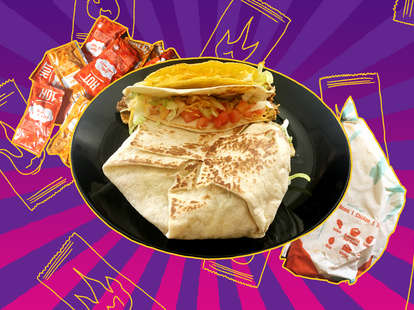 MAITANE ROMAGOSA/AMBER SUTHERLAND-NAMAKO/THRILLIST
Editor's Note: In the age of social distancing, one of the only ways to safely get fast food is via delivery. We all know that a lot of foods aren't quite the same by the time they reach your door, but which fast food staples fare the best after traveling in a delivery bag? We're trying major fast food menu items to help find the best bets when ordering fast food to your door, with a new series of delivery-only taste tests called How You Holding Up?
"It's too good not to be true," the copy on a hot sauce packet read. It was just one of an embarrassment of hot and mild sauce riches -- more than a baker's dozen in a pile on my kitchen counter, emblazoned with other phrases like "I'm OK with that," "I like ___," and, my favorite, "You're cute." I like you, Taco Bell, and you're cute, too.

It took a couple of weeks and a lot of food from Subway, Wendy's, Chick-fil-A, Popeyes, Burger King, and McDonald's, but I had finally achieved Taco Bell delivery. There was a time, when Grubhub said that it was not available in my zip code, that I did not believe this would happen. But, by finally thinking outside the bun, and breaking a few rules, I was now able to live más. And I'm OK with that.
Here's how a Crunchwrap Supreme, soft taco supreme, and a crunchy taco held up from the world's most famous dog house (RIP Gidget), to my house.
Yo quiero Taco Bell: Ordering, wait time, and delivery experience
It took somewhere between 46 minutes and 336 hours to acquire Taco Bell. I intended to order it following the second edition of 'How You Holding Up?', which published on May 5, but Taco Bell did not appear to be available in my area as my deadline approached -- at least not in accordance with the rules of the series. These rules are few, but mighty. 1. Initiate orders only through each restaurant's website. 2. Order items in their neutral form. 3. Tip extra.
The first and second rules are in service to the consumer, for whom this here column exists. I figured that if a person wanted Taco Bell, for example, they'd try their luck on the Taco Bell website rather than play app roulette. And, even during this time of pause, most folks are still pressed for time while they juggle work, family, and plotting against their enemies, so it wouldn't be reasonable to allocate an abundance of time to customization. Finally, tipping extra is literally the least anyone with the disposable income to order delivery can do.
I didn't worry the first couple of times I couldn't get Taco Bell on Grubhub, the only delivery service the restaurant links out to from its site. I'd seen other chains come and go on various platforms depending on the day or time. But, as I checked back again and again, I began to accept that there might forever be a taco-shaped hole in 'How You Holding Up?'.
But then, when I was checking a separate chain's availability, I was directed to Postmates. There it was: Taco Bell. Still, I did not order. How could I betray my own rules, and the consumer, by shopping the apps? After a few days of soul searching, I realized that perhaps I'd underestimated the determination of my fast food-seeking peers. Of course anyone ravenous for particular foodstuffs would click around to slake that yearning. I'd been a fool. I returned to Postmates (in spite of my discomfort with the site because it seems to only let you tip after delivery, unfairly leaving the delivery person in the position to wonder how they'll be compensated for their service) and clicked on my items. It took about 20 minutes to create an account and place my $10.13, pre-tax, "fees," $5.99 delivery fee that I'd never pay if this wasn't for work, and tip order. I'd neglected to add sauce packets, but at least I had an ETA from the location 2.7 miles away: 1:35pm. It got here at 1:26.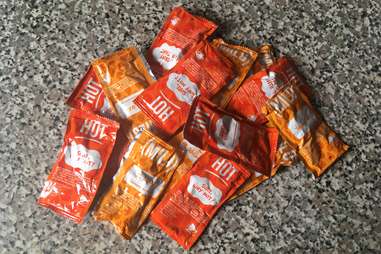 You can ring my bell: Taste, presentation, and how it holds up
The paper bag at my doorstep was a most welcome sight, but I still didn't know what to expect. I figured the dense, self-contained Crunchwrap supreme would have traveled just fine, but the tacos, with their many lightweight moving parts, would have been more vulnerable to deconstruction in transit. I gently placed the bag on my kitchen counter and peeked inside. They'd remembered the hot sauce even though I had forgotten! Oodles of hot and mild packets shone up at me.
I removed each item's thin wrapping quietly, carefully, and deliberately. Everything had made it this far, I couldn't be the reason for any flaws now. I started with the soft taco supreme, surely the least likely to have maintained its form. It was practically perfect, nary a cube of tomato or shred of lettuce amiss. The crunchy taco was next: practically perfect. Its radioactive-hued hard shell was intact, absent even a chip or hairline fracture. And, as expected, the Crunchwrap Supreme was pristine, its tidy exterior never betraying one morsel of the beef, tomatoes, nacho cheese, reduced fat sour cream (lol), or shredded lettuce hidden inside.
We have a lot of great tacos in NYC. I loved the lengua tacos and margaritas at Taqueria on Orchard Street so much that I followed them when they moved to St. Marks Place even though it was farther from the subway. I miss getting brunch tacos and frozens at Alma on Columbia Street almost every weekend, but I miss the staff that treated us like friends even more. See, I haven't had a compelling reason to go to Taco Bell in quite some time, outside of the stray drive to the Poconos here and there. Still, that first bite of the soft taco supreme seemed to freeze frame every time I've ever tasted the stuff and layer each occasion into a trompe l'oeil that dissolved into the present moment.
It's a marvelous thing, to be what you are. Some things are more themselves than others. Even a branded food, its flavors created in a lab or commercial kitchen, tried and tested over and over again with surgical precision, might end up with a taste untethered to its corporate home. But Taco Bell's soft taco supreme is unlike any other taco. Its cashmere flour tortilla is filled with beef seasoned like a tune you try to hum after only hearing it once, lettuce, tomato, reduced fat sour cream (come on), and a crown of cheddar cheese shredded finer than angels' eyelashes. Same goes for the crunchy taco, minus the sour cream and tomatoes, but with the added satisfaction of that crackling corn shell. And, even for all its time spent on the road and in my kitchen, that shell still crunched.
The Crunchwrap Supreme is a structural triumph for the annals of fast food history. The seasoned beef and nacho cheese sauce are separated from the lettuce, tomato, and reduced fat sour cream (fine) by a tostada, all hexagonally encased in a flour tortilla. It keeps your hot stuff hot and your cold stuff cold all in one handheld disk. It's a good walking around food. After traveling from its creator to my plate and sitting around while I sampled the tacos, the Crunchwrap remained at a pleasant temperature, but the center tostada had lost its snap. I still enjoyed it very much, as the somewhat softened tostada was reminiscent of the eponymous tortillas in a good tortilla soup, or those in a beautiful chilaquiles. You can preserve the crunch with one weird trick: eat it faster.
Final thoughts
Believe in yourself, reach for the stars, and never give up on your dreams. For many days, I doubted whether I would attain Taco Bell, and now the rocketchip high of that moment has come and gone. It's as bittersweet as any achievement, as a desire still stirs within. For yo quiero Taco Bell, once more
Join us again next time when we ask KFC: How You Holding up?
Sign up here for our daily Thrillist email and subscribe here for our YouTube channel to get your fix of the best in food/drink/fun.