Following the Super Bowl-sized launch of the cheesy new Quesalupa, Taco Bell is back again with an announcement even bigger than a Chalupa-quesadilla hybrid: a new $1 dollar breakfast value menu with four all-new options.
The new "$1 Morning Value Menu" launches at T-Bells nationwide on Thursday with a total of 10 breakfast items for $1, including four new breakfast items: a Mini Skillet Bowl, Breakfast Soft Tacos (with sausage or bacon), and a Sausage Flatbread Quesadilla. The new menu is available in addition to Taco Bell's existing lineup of loosely Mexican-inspired breakfast foods like Breakfast Crunchwraps and Waffle Tacos, which will remain at the current prices.
Taco Bell said the move comes after research shockingly concluded that most people would prefer spending a dollar instead of more than a dollar (crazy, right?). It's basically a Doritos dust-covered middle finger to other fast food chains raising prices and cutting back on their value menus in recent months.
"While dollar menus disappear across America, Taco Bell is continuing to reinvent breakfast with delicious and unique menu items only Taco Bell can provide, with 10 items for $1 each," Marisa Thalberg, Chief Marketing Officer for Taco Bell Corp., said in a statement.
Here's how Taco Bell describes the new breakfast options:
Mini Skillet Bowl: a delicious breakfast bowl filled with seasoned breakfast potatoes, fluffy scrambled eggs, warm melty cheese and freshly-prepared Pico de Gallo
Breakfast Soft Taco: a warm flour tortilla filled with fluffy scrambled eggs, your choice of flavorful bacon or delicious sausage and real cheddar cheese
Sausage Flatbread Quesadilla: a pillowy flatbread filled with a three cheese blend, delicious sausage, and fluffy scrambled eggs, grilled to seal in all the flavors
And here's the $1 Morning Value Menu in full: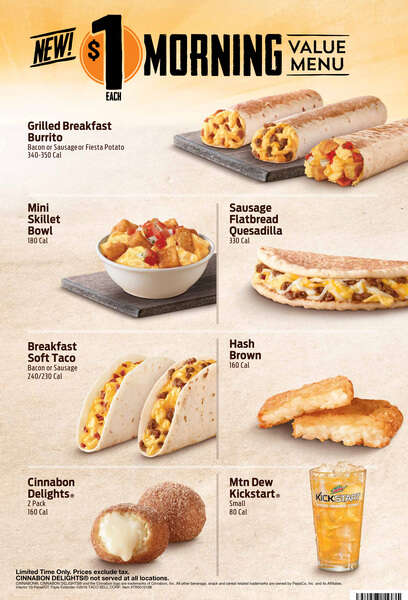 Sign up here for our daily Thrillist email, and get your fix of the best in food/drink/fun.
Tony Merevick is Cities News Editor at Thrillist and hasn't had a fast food breakfast in a very long time. Send news tips to news@thrillist.com and follow him on Twitter @tonymerevick.