You Can Get a $1 Freeze from Taco Bell Every Friday This Month
The taco chain has free and cheap food in July and August.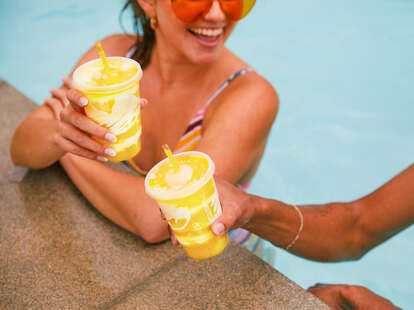 Courtesy of Taco Bell
Courtesy of Taco Bell
For the entire summer season, Taco Bell has cheap and free food. You can get $2 Crispy Cantina Tacos through August; score double rewards on Cheesy Double Beef Burritos; and even get $5 off when you order via DoorDash, GrubHub, Uber Eats, or Postmates.
While you should cross-reference the entirety of the Chalupa slinger's promotional schedule and mark your calendar accordingly, let's start with Taco Bell's latest offer first. You can celebrate every Friday in July with a $1 Freeze beginning tomorrow.
Between July 1 and July 29, the fast food joint is slashing prices on its fan-favorite frozen drink. The menu currently includes a Mango Whip Freeze, Mango Freeze, Mtn Dew Baja Blast Freeze, and Wild Cherry Freeze.