Taco Bell Is Unleashing 20 New $1 Menu Items to Take on McDonald's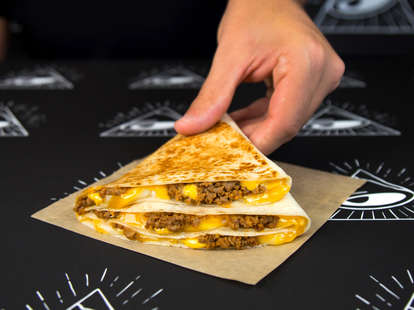 Courtesy of Taco Bell
Courtesy of Taco Bell
Brands undermining each other in highly public fashion is just the world we live in. Every day brings a new subtweet. It's pretty rare, however, to see a major chain's press release shaming another restaurant, but that's just what Taco Bell did on Tuesday when it issued a "press rerelease" that was just a marked-up copy of its 2014 dollar menu announcement. McDonald's had just announced its new dollar menu. The move was petty in the way only multimillion-dollar fast-food restaurants can be petty.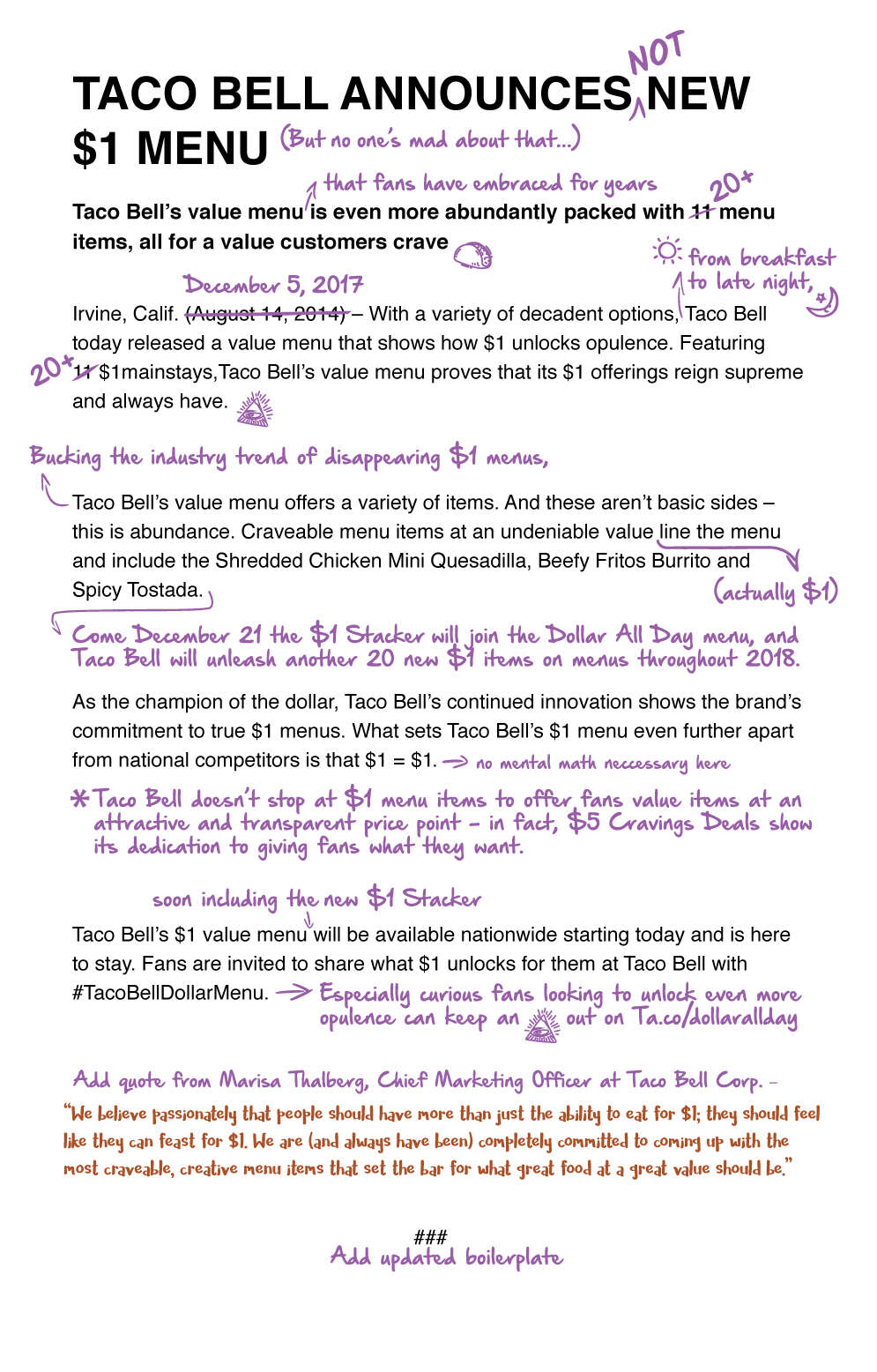 But it wasn't all ridicule. We also learned that Taco Bell is releasing 20 new dollar-menu items over the course of this year. These will only be available for a limited time, so 2018 is looking like continuous excitement as the new flour, meat, and cheese surprises are revealed.
First up on this list is the new $1 Stacker, which hits your local T-Bell on December 21. It's basically a folded quesadilla with a melted three-cheese blend, nacho cheese, and seasoned beef in a tortilla, which is grilled and pressed, then folded three times to form a stack. The Stacker can also be ordered as part of a $5 Box, with a Doritos Locos Taco, a crunchy taco, chips and nacho cheese, and a medium fountain drink.
The Stacker also comes in breakfast form, as you can see above. In this iteration, the beef is replaced with scrambled eggs, which is great because $1 breakfast is arguably the best way to start a day.
"We believe passionately that people should have more than just the ability to eat for $1; they should feel like they can feast for $1," said Marisa Thalberg, Chief Marketing Officer at Taco Bell. "We are (and always have been) completely committed to coming up with the most craveable, creative menu items that set the bar for what great food at a great value should be."
As for what the rest of the 20 items will look like, Taco Bell is playing it close to the vest. There's reason to suspect it might have something to do with recent French fries appearances though.
Regardless of who you think won this spat, with new dollar-menu items from McDonald's and Taco Bell, 2018 is looking up already.
Sign up here for our daily Thrillist email and subscribe here for our YouTube channel to get your fix of the best in food/drink/fun.


James Chrisman is a News Writer at Thrillist who is also taking on McDonald's, in a sense. Send news tips to news@thrillist.com and follow him on Twitter @james_chrisman2.