Taco Bell Is Unleashing Even More $1 Menu Items This Week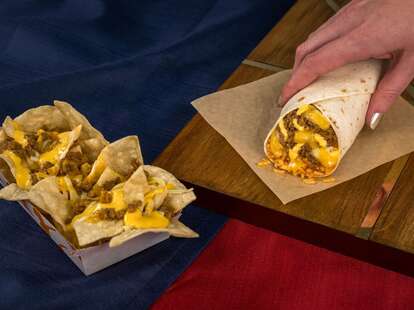 Courtesy of Taco Bell
Courtesy of Taco Bell
While Taco Bell is set to temporarily discontinue its insanely popularNacho Fries this week, it looks like the chain is already hoping to fill the loosely Mexican-inspired fast food void they'll leave behind with additional all-new menu items. Best of all, they will -- like the fries -- set you back only a dollar.
Taco Bell will begin serving two new value menu options nationwide, the $1 Triple Melt Burrito and $1 Triple Melt Nachos, starting on April 5, according to a company spokesperson. Unlike the departing Nacho Fries, both menu items are more or less the same basic T-Bell ingredients -- ground beef, cheese, rice -- tossed together to form ultra-cheap burritos and nachos. In other words, they'll likely serve as cheap add-ons to round out your usual Crunchwrap or Chalupa order.
Along with the nationwide value menu updates, Taco Bell is also testing two additional $1 options at its locations in select markets. First up is the new $1 Crispy Chicken Taco, which features the chain's chicken nugget-like Naked Chicken Chips and standard taco fillings like cheese, lettuce, and sour cream. And, finally, the chain is testing the longtime fan-favorite Beefy Crunch Burrito for $1, teasing another potential comeback on menus nationwide. While T-Bell didn't specify where you can find the former test item, it said the latter will be available at 30 restaurants in Chattanooga, Tennessee as of April 4.
All said, the additions may not be as exciting as the launch of an fried/inverted/cheese covered/otherwise insane stunt food, but they're good news for anyone hoping to save a couple of bucks. And in case you lost track, Taco Bell said the menu items mark the halfway point in delivering on its promise to introduce 20 new $1 menu items in 2018 to take on McDonald's and its revamped Dollar Menu. With at least another 10 cheap menu items on the way, the value menu war will only heat up from here.
Your move, Mickey D's.
Sign up here for our daily Thrillist email and subscribe here for our YouTube channel to get your fix of the best in food/drink/fun.


Tony Merevick is Senior News Editor at Thrillist and already has some Fire Sauce ready. Send news tips to news@thrillist.com and follow him on Twitter @tonymerevick.