It's Official: Taco Bell Is Unleashing a New Flamin' Hot Doritos Locos Taco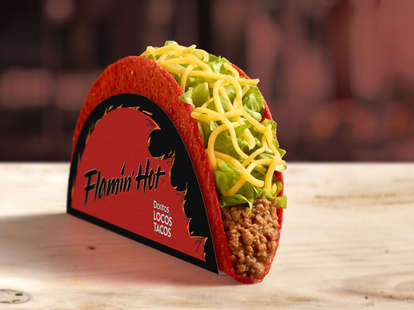 Courtesy of Taco Bell
Courtesy of Taco Bell
You ever had something like Flamin' Hot Cheetos popcorn? Frito-Lay's trademarked spice makes a zesty adventure out of an otherwise commonplace snacking experience. The one thing all Flamin' Hot snacks have in common is that they're better for being slightly painful to consume, and Taco Bell seems to recognize that its tacos are no exception, as it's just announced the release of a new Flamin' Hot Doritos Locos Taco.
Starting on Thursday, April 16, the highly anticipated fiery taco will be available via drive-thrus and delivery at every T-Bell location nationwide. The Flamin' Hot DLT includes seasoned beef, lettuce, and cheese. The "Supreme" version also contains tomatoes and a generous dollop of sour cream.
This DLT release means that th Nacho Cheese DLT, which debuted in 2012, will no longer stand-alone. This news will likely bring tears to the eyes of Cool Ranch DLT and Fiery DLT fans, who grieved the loss of these 2013 menu items during last year's startling Taco Bell menu purge.
Now, let's talk strategy. The $2 Flamin' Hot Duo deal comes with a medium drink and a regular Flamin' Hot DLT, but if you're with company or interested in eating twice your body weight, go for the Variety Taco Party Pack -- this includes six Flamin' Hot Doritos Locos Tacos and six Crunchy Tacos, plus delivery is free through GrubHub because it costs over $12 (the pack comes out to around $16).
By the way, if this article has triggered some Cool Ranch DLT and Fiery DLT nostalgia, feel free to check out our tribute to the dishes that are no longer with us, which aired 20 minutes into Thrillist's fast food awards.
Sign up here for our daily Thrillist email and subscribe here for our YouTube channel to get your fix of the best in food/drink/fun.