Doja Cat isn't the only one excited about Taco Bell's Mexican Pizza. Fans are, too, with all of the end-of-May deals available to help you score a discounted or totally free pie. To celebrate the Mexican Pizza's glorious return to Taco Bell's permanent menu, the taco chain has some blazing hot deals, some of which you only have one more day to cash in on.
For starters, if you want to get Mexican Pizza today, the brand has launched a DoorDash Mexican Pizza Exclusive where fans can get Mexican Pizza delivered exclusively through DoorDash until May 26, 2022. On top of only being able to order Taco Bell's Mexican Pizza on Doordash through May 26, the brand is giving DashPass members $2 off with the purchase of a Mexican Pizza. To cash in on the $2 off deal, make sure to use code MexPizza at checkout and that your purchase is over $12.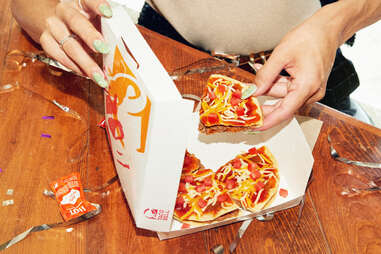 But it gets better. From May 27 to May 30, 2022 fans can get free Mexican Pizza when they purchase $15 or more through Grubhub. Lastly, DashPass members will exclusively be able to Get the Mexican Pizza Meal for two delivered. The meal is perfect for you and a friend and features two Mexican Pizzas, two Bean Burritos, one Nacho Bell Grande, and two Cinnamon Twists for $12.50.
If you haven't heard about the iconic Mexican pizza, we'll fill you in: It's made up of two crispy flour shells layered with beans, pizza sauce, seasoned beef, tomatoes, and a melted three cheese blend. Fans can enjoy either beef or vegetarian options of the pizza for $4.49.
Janae Price is a News Staff Writer at Thrillist. She's a native New Yorker and loves all things cheese, K-pop, and culture. Follow her on Instagram and Twitter @janae_larie.