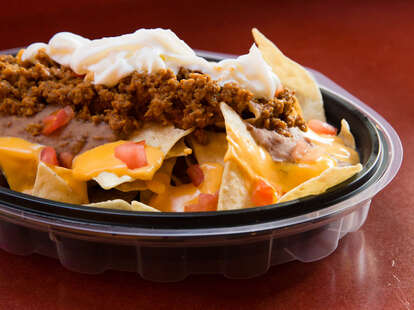 In case you haven't heard or gotten a text from your ex lately, I should say Mercury is back in retrograde to royally mess up our lives. Buckle in, folks. We'll have to ride this one out until October 18. However, to soften the blow, Taco Bell is supplying us with free Mercury RetroGrande Nachos this week.
Between October 7 and October 9, smack dab in the middle of Mercury Retrograde, Taco Bell is teaming up with Uber Eats to bring us a little hope in the form of free nachos. Just load up your virtual cart with at least $12, and the freebie is yours. You'll even be entered for a chance to win a Spencer Pratt-approved nacho-shaped amethyst crystal that comes complete with a gold-colored cheese drip.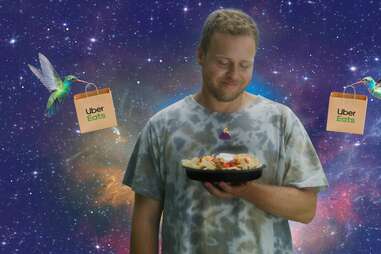 "Mercury in retrograde is no joke and I do whatever I can to combat those bad vibes from extra quality time with my hummingbirds to cleansing my crystal collection and more," reality star and crystal enthusiast Spencer Pratt, who partnered with the brand for its latest promotion, said in a statement to Thrillist. "I've always been a Taco Bell superfan and was so pumped to team up with Uber Eats and Taco Bell to bring together my two favorite things, Crystals and Nachos."
Making the cart minimum for this promotion and getting the chance to win that crystal should be easy. Taco Bell has introduced many innovations in the last year, including Loaded Nacho Fries, a Truff Hot Sauce collab, and a Crispy Fried Chicken Sandwich Taco.
Megan Schaltegger is a staff writer at Thrillist.