Taco Bell Will Give You a Free Taco Every Week if You Have T-Mobile
T-Mobile announced it's teaming up with Taco Bell to bring its customers free tacos every single week...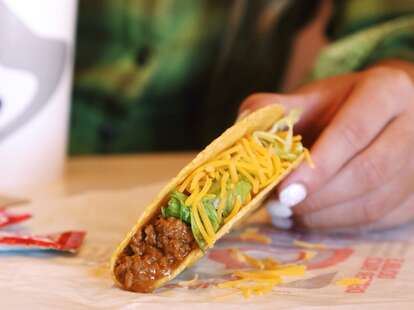 T-Mobile has nothing to do with tacos, but it turns out being a customer of the wireless carrier can score you some free Taco Bell. In one of a series of commercials during the Super Bowl, the company announced it's teaming up with the Doritos Locos peddler to bring its customers free tacos every single week -- for an undisclosed length of time.
The deal is one of many perks available to T-Mobile Tuesdays app users. This particularly deal -- for one free Crunchy Taco or Soft Taco -- has "no strings attached," meaning you don't have to buy anything to get your hands on the free food every week. That said, there's a slim chance you'll end of leaving Taco Bell with just one taco (admit it). Previous freebies include free Domino's pizza and free movie tickets.
An end date for T-Mobile and Taco Bell's collaborative freebie hasn't been announced, but nothing gold can stay. According to the fine print this is a "limited time offer," so take advantage while you can. No need to worry about a ride, either. T-Mobile is also offering $10 off Lyft rides via the T-Mobile Tuesdays app.
Not a Crunchwrap connoisseur? Weird, but we're not here to judge. T-Mobile is sure to announce another freebie deal as this one ends. All you have to do is download the T-Mobile Tuesdays app and watch the free stuff roll in.
Sign up here for our daily Thrillist email and subscribe here for our YouTube channel to get your fix of the best in food/drink/fun.
Caitlyn Hitt is Daria IRL. Don't take our word for it -- find her on Twitter @nyltiaccc.