Taco Bell Probably Just Revealed It's Adding French Fries to Its Menu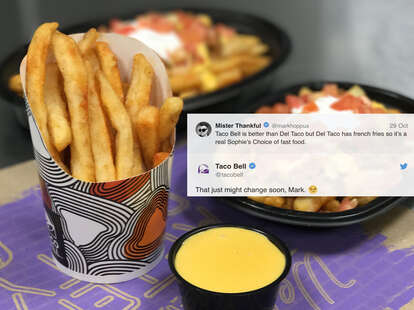 Courtesy Taco Bell (Edited)
Courtesy Taco Bell (Edited)
Only in the most modern times do brands appear seemingly out of the ether to answer your questions on Twitter. Whether it's Chili's imparting strangely practical life advice, or Wendy's flinging 140-character barbs at whoever stands in its path, fast food companies are quickly mastering the art of public relations one stunt at a time, and Taco Bell is no different.
On Monday, the faux-Mexican chain and Kit Kat Quesadilla creator came to the aid of a burning Twitter question with some useful information for junk-food addicts: It might soon add french fries to its menu.
The news came by virtue of noted taco-enthusiast and famous California-boy Mark Hoppus, who plays bass in pop-punk outfit Blink-182. The rockstar was openly musing about Taco Bell and Del Taco on Twitter, writing on Sunday that it's really difficult to choose a favorite between the two chains because of Del Taco's french fries, which are both very good and delicious.
Needless to say, Hoppus was pretty stoked about the message:
While it's no stranger to unleashing stunt foods that expand the average palette as well as our understanding of the English lexicon, Taco Bell has experimented with fried potatoes before: Back in April, the chain started serving Nacho Fries at select locations in West Virginia and California, and even offered up a monstrosity called the Nacho Fries Supreme, which came topped with beef, pico de gallo, nacho cheese, and sour cream.
That particular experiment was short-lived, but it also wasn't the first time T-Bell flirted with fries: A restaurant in Irvine, California served them last year, and customers at the chain's international outposts have long been offered fries as a staple menu item.
While it remains to be seen whether America will get the Taco Bell fries it hungers for so badly, Mark Hoppus' will likely continue to ask the larger, more consequential questions emanating from the fast-food universe, as he did Sunday:
Please keep tweeting, Mr. Hoppus.
Sign up here for our daily Thrillist email and subscribe here for our YouTube channel to get your fix of the best in food/drink/fun.

Sam Blum is a News Staff Writer for Thrillist. He's also a martial arts and music nerd who appreciates a fine sandwich and cute dogs. Find his clips in The Guardian, Rolling Stone, The A.V. Club and Esquire. He's on Twitter @Blumnessmonster.