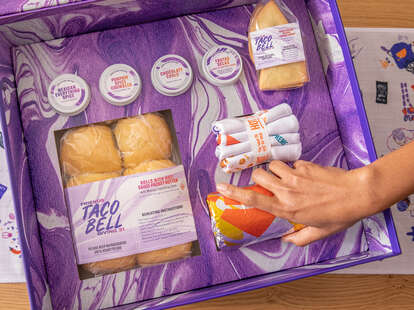 Friendsgiving season is in full swing, and if you're scrambling to find the perfect dish to bring to your pals' table, Taco Bell may have your back. The fast food chain made a limited number of super-festive, food-filled Friendsgiving Party Packs for loyal customers, and the best part? They're free.
Taco Bell announced the giveaway on Wednesday, with a spokesperson saying that anyone who has achieved the chain's FIRE! Rewards status will get emailed a link with instructions about how to order their free Friendsgiving Party Pack. There is only a limited number available, so this deal is first-come, first-served and sure to sell out quickly.
Each pack includes ready-to-heat Taco Bell-inspired recipes, each of which come in a reusable branded baking dish. Lucky Taco Bell fans who are able to get their hands on Friendsgiving Party Packs will also get Friendsgiving decor to jazz up their gathering. Party packs will be delivered directly to Fourth Meal fans' doors this Friday.
Taco Bell's Friendsgiving Party Packs include:
Cinnabon Delights Candied Yams
Rolls with HOT! Sauce Packet Butter
Green Bean Casserole Supreme
Build Your Own Dessert Nachos
Recipes were created with the help of Rene Pisciotti, the company's executive chef. Pisciotti is the culinary genius behind past years' memorable Friendsgiving dishes from T-Bell, including the
Crunchy Taco Shepherd's Pie, Rolled Chicken Tacos Bisque, and Fire Tortilla Chip Crusted Chicken.
This Friendsgiving, you could go with a favorite family recipe, or you could kick grandma's famous mashed potatoes to the curb and opt for something a little more exciting from Taco Bell. Seems like an obvious choice.
If you can't get your hands on a Friendsgiving Party Pack from Taco Bell, you're not totally out of luck. You can visit Taco Bell's blog for a recipe for DIY Cinnabon Delights Candied Yams. It's a little more work, but think of it as a labor of love.
Caitlyn Hitt is Daria IRL. Don't take our word for it—find her on Twitter @nyltiaccc.