Taco Bell Is Making Insane Fries-Stuffed Burritos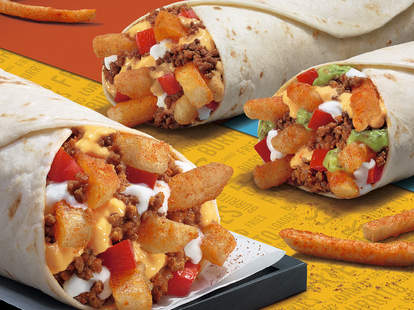 In just the last few years alone, Taco Bell has maniacally collided foods like chicken nuggets and quesadillas, fried eggs and tacos, and even Kit Kats and quesadillas to form the stunt food combos of your wildest munchies. But even after unleashing such creations as the Naked Egg Taco, the chain somehow hadn't slammed two of your favorite foods -- burritos and fries -- together... until now.
Taco Bell is now serving what appears to be its first-ever fries-stuffed burritos, aptly dubbed Loaded Fries Burritos, as part of a test at some of its locations in the Charleston, West Virginia area. As a report by Brand Eating explains, the carb overload is available in three varieties: a Supreme version that's made with ground beef, fries, tomatoes, nacho cheese, and sour cream; a California version that features all the same ingredients plus guacamole; and a Chipotle version that's made with spicy chipotle sauce.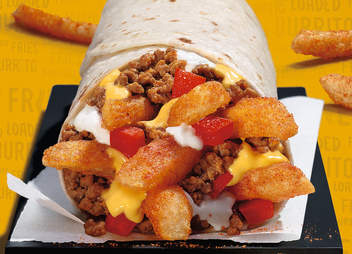 Courtesy of Taco Bell
Of course, Taco Bell is hardly the first major chain to unleash burritos made with fries, but the current test launch is further evidence that the company is gearing up to launch its own version the fast-food staple. The same T-Bell locations are also serving Nacho Fries -- an order of fries topped with ground beef, pico de gallo, nacho cheese, and sour cream -- alongside the burritos, continuing the chain's ongoing experimental move into the fries space.
All said, it may not be long before you can find fries -- and burritos stuffed with fries -- on Taco Bell menus nationwide. You may want to get some Fire Sauce and, uh, maybe some ketchup ready.
 
Sign up here for our daily Thrillist email and subscribe here for our YouTube channel to get your fix of the best in food/drink/fun.
 
Tony Merevick is Senior News Editor at Thrillist and still needs to try Taco Bell's fries. Send news tips to news@thrillist.com and follow him on Twitter @tonymerevick.