Taco Bell is Making an Insanely Cheesy Grilled Cheese Burrito
Taco Bell is really leaning into the American classics. The Chalupa slinger introduced Nacho Fries to much fanfare back in 2018, announced the launch of its own take on fried chicken tenders, and is now going full comfort meal with an all-new Grilled Cheese Burrito. Which, of course, means cheese both inside and outside of the burrito -- expect a melted crust of cheese grilled directly onto the burrito as well as molten cheese pouring out of the inside.
The Grilled Cheese Burrito is filled, of course, with a bunch of cheese. But that's not all. Crammed into the toasty tortilla blanket, you'll also find seasoned beef and rice, creamy chipotle sauce, sour cream, and crunchy red tortilla strips. In other words, it's hardly a classic grilled cheese, but you know what? We'll take it.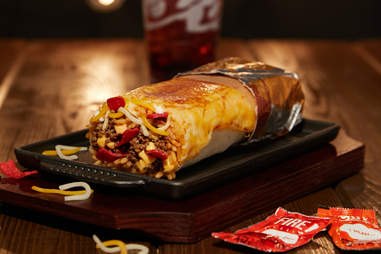 OK, let's take a closer look.

| Courtesy of Taco Bell
What's to differentiate this from say, the Beefy Nacho Griller, which also has red strips, seasoned beef, and cheese? Well, there's a difference between nacho cheese versus melted cheese. One is more of a sauce while the other is actually shredded cheese that's been rendered soft thanks to high heat. Additionally, the Grilled Cheese Burrito is larger and also filled with rice, sour cream, chipotle sauce and has additional cheese melted on the outside. We all know that Taco Bell is ultra customizable and that this is just a new reiteration of their ingredients, but hey, it still sounds excellent.
You can currently only get the test-run version of the Grilled Cheese Burrito in Chattanooga, Tennessee, for $2.99. It's also available in a $5 box with two crunchy tacos and a medium drink, or a $7 box with a Beef Chalupa Supreme, a Nacho Cheese Doritos Locos Taco, chips with nacho cheese dip, and a medium drink. No word yet on when it'll hit T-Bell locations nationwide, but look at that thing. It can't be long, right?
Now all that's needed is a side of tomato soup or a zestier tomato salsa to dip the burrito in.
Sign up here for our daily Thrillist email and subscribe here for our YouTube channel to get your fix of the best in food/drink/fun.
Kat Thompson is a staff writer at Thrillist and scholar of Taco Bell. Follow her on Twitter @katthompsonn.