Be a Ghoulish Gordita This Halloween With Taco Bell's New Costumes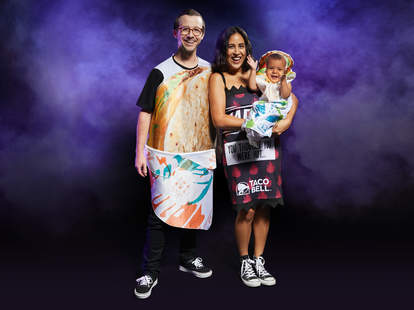 The only thing dorkier than dressing up as a burrito for Halloween is being that person who doesn't dress up at all. We don't want you to be that person, and it looks like Taco Bell doesn't either. The Chalupa slinger announced Thursday it's launching a line of Halloween costumes this year. 
It's even better than it sounds. There's a Cheesy Gordita Crunch tunic, various hot sauce dresses for the whole squad, and even a tiny 7-Layer Burrito baby bunting that has melted my cold heart like thermonuclear Fire Sauce.
Courtesy of Taco Bell
You can get the costumes at Taco Bell's online Taco Shop to ensure you're looking extra saucy for the spooky season, but you may want to act fast. Previous T-Bell merchandise launches have sold out before you can say Triple Double Crunchwrap. Or something like that. Point is, you'll have to be quick to live your best Diablo Sauce life this Halloween. 
Taco Bell might not be the first thing you think of when it comes to dressing up for a night of tricks, treats, and terror, but the Mexican-inspired fast food brand has already haunted us this year by axing nine well-loved menu items -- so the costumes may just be scarily on-brand after all. 
Sign up here for our daily Thrillist email and subscribe here for our YouTube channel to get your fix of the best in food/drink/fun.
Kat Thompson is a staff writer at Thrillist. Follow her on Twitter @katthompsonn.